1st of September, 1686 : At the gates of the palace
What a strange paradise is this land of France! Over the course of two months, since our arrival in Brest, we make the acquaintance of characters and artists each more strange than the last. We observe with increasing curiosity the strange customs of these people who are so sure of themselves… And yet, everything in these preparations for an audience with the king leads me to believe that we are far from reaching the apogee of the court's splendour and novelty.
It will indeed be difficult to avoid distraction during this crucial moment of our visit. To bring to the king of the Kingdom of France the letter from Phra Naraï, our ruler - may wisdom illuminate his days and bring peace to his nights!
This is undoubtedly what France is all about: having overcome all the perils of a journey across the sea, here I am, incapable of talking about anything but clothing, lavish decor and unfamiliar manners. Yes, Versailles is a paradise inhabited by richly dressed figures with proud and curious looks. And soon enough we shall have to present ourselves…
Kosan Pan by Charles Le Brun, 1686
© RMN-Grand Palais (musée du Louvre) / Thierry Le Mage
Charles Le Brun, who painted  the portrait of the ambassador Kosan Pan, served as a guide for many of the ambassador's visits to notable locations within the kingdom, such as the Manufacture des Gobelins and the Hall of Mirrors. The artist was impressed by the culture, finesse and curiosity of the ambassador.
September 3rd, 1686 : 1500 onlookers accompany us to their king
I have only managed to return to this journal now because all the turbulence of this visit has been so utterly exhausting. It would take a whole book for me to detail all of my impressions during those few hours. But I'll try to at least outline the facts of the visit. 
As agreed, marshal La Feuillade comes to collect the three of us - myself, my "Uppathut" and my "Trithut". La Feuillade, with touching awkwardness, took several weeks to learn how to pronounce these words from our language, instead of just using "second and third ambassadors". With the marshal we take the gilded carriages of the King and Dauphine from our Parisian hotel to Versailles, in comfort more readily associated with an actual palace.
Upon our arrival, we are immediately plunged into a chaotic hustle and bustle that requires all my attention to navigate while maintaining decorum. We cross the court, where curious onlookers push in from all sides. They seem to have come from all over Europe to admire our procession. Before us is the letter of our king, held in a machine which twelve "Swiss" carry with all due dignity. By our side, our attendants carry the traditional parasols which evidently impress the onlookers.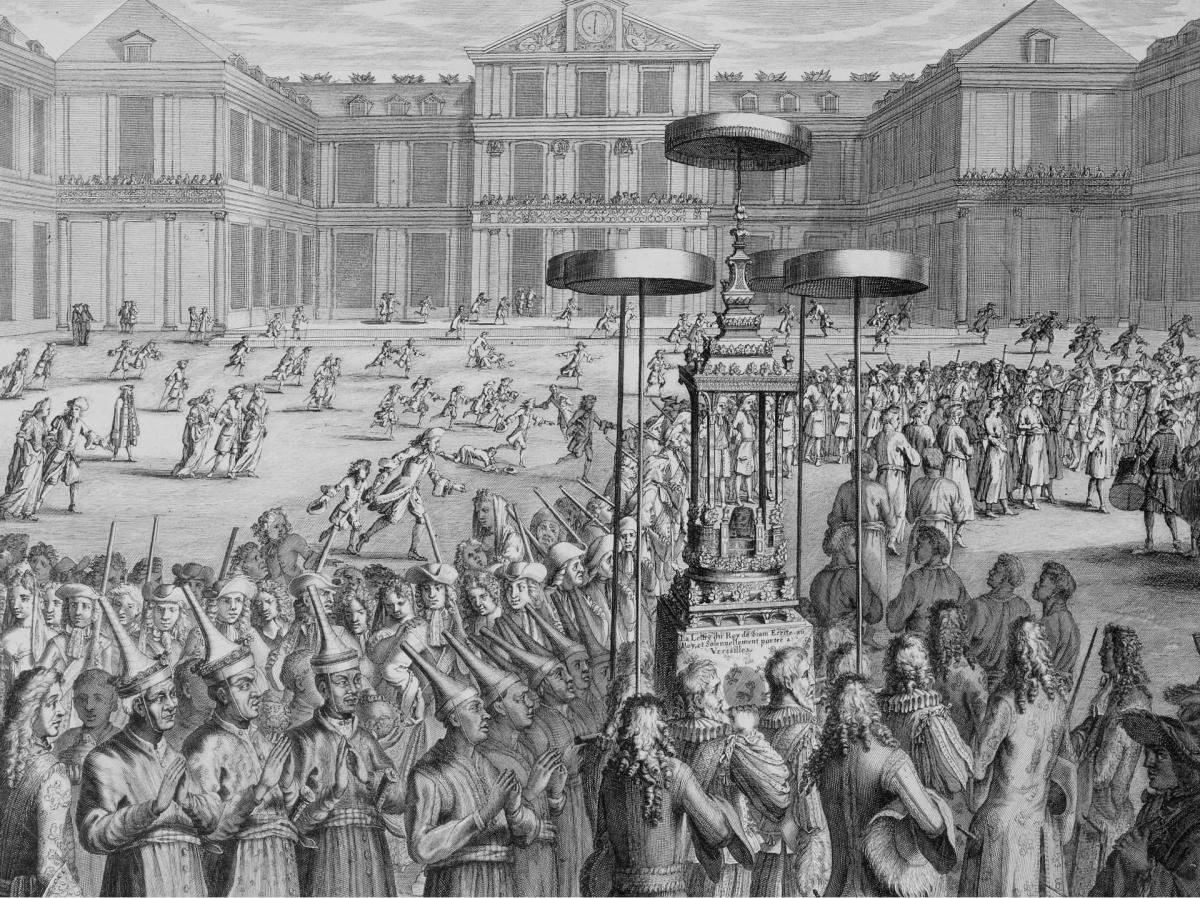 Almanach pour 1687 : ambassade du Siam à Versailles en 1686, 1687
© RMN-Grand Palais (Château de Versailles) / Gérard Blot
This engraving represents the arrival at Versailles, on September 1, 1686, of the letter engraved on a gold leaf sent by the King of Siam (Thailand). The eldest of the Siamese ambassadors knew the court of the Emperor of China Kangxi and his master, King Phra Naraï (1633-1688), wanted to know how the court of Versailles supported the comparison with that of China.
Approaching the Ambassadors' staircase, one cannot help but be stunned by its majesty. One could justify crossing oceans to see nothing but this monument. But impassively we continue on. The drums and trumpets, with their strangely harmonious racket, smother the comments of the onlookers as they point to our outfits. One thousand five hundred glares testify to the importance of this day, and accompany us through salon after salon, each rivalling the other in its splendours, right up to the hall where we await the king.
CATALOGUE OF THE EXHIBITION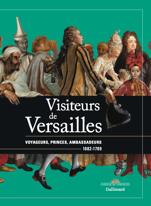 45€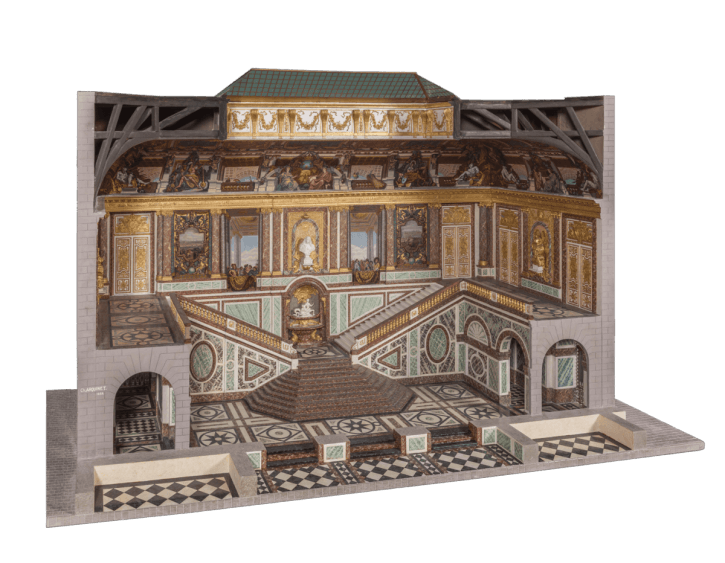 The ambassadors' staircase
© Château de Versailles / Christophe Fouin
This was a monumental staircase built and decorated between 1672 and 1676. After 1748, during the reign of Louis XV, it was used as a theatre, until it was destroyed in 1752 by order of the king, to make room for his daughters' apartments.
We enter what I can only describe as a cage of light, where the brightness of the sun - relatively faint in these parts - is reflected in the surrounding mirrors and the pure silver of the furniture. Right down at the back of this room, the King appears miniscule. Following our own tradition, we perform three outstretched bows as we approach. This gesture, a display of the utmost respect, never fails to flatter in our native land.
On a raised platform nine steps in height, accompanied by his son and nobles of the court, in an outfit embroidered with a constellation of precious stones and gold that could confound the mind of an astronomer, sits the king.
Our attendants are in for a treat: with magnificent generosity, Louis XIV allows them for the first time in their lives the right to look upon royalty!
Louis XIV
They've come too far to not be allowed to look at me
It took us four days to gather all our gifts together, and whole months to choose from among the countless riches that the commerce of our country has to offer. And yet, glancing at the lacquered cabinets, the jades, rhinoceros horns, silk clothing, and the fifteen hundred porcelains from China, the court and its king seems to pout. Let us hope that this strange taste for the grand to the detriment of the more refined doesn't cast prejudice on our business here...
December 17th, 1686 : the last days before our return home
There is still some time remaining, though we've already seen the leaves in the immense garden turn red and die. I don't want to forget the slightest detail of our strolls, or the apartments straining under the weight of their luxurious ceilings. The narrative I recount upon my return to Phra Naraï - may wisdom illuminate his days and bring peace to his nights – must be as precise as possible. Now the pools are paralysed by ice - it gets so cold here that the water becomes hard as stone.
"After Man, God and Paradise, I now know a fourth great magnitude, that of Versailles!", my companion remarks upon emerging from the medal cabinet. And it is in this fairyland built by strange men that we have passed the last several months, negotiating with their delegation.
The King is not impressed by our gifts. They are even saying that some of the precious porcelains have been passed on as gifts to others. It is difficult to talk business with a nation that only wants to establish an exclusive trade agreement, convert our King to their religion of one god, and tirelessly satisfy its own desires. Nevertheless, we have made good progress, and one can reasonably hope that later meetings will be more fruitful. It is in this spirit then that I patiently pay my last visits and put down on paper my observations… as I wait for them to give me leave.
After a visit involving many negotiations, King Louis XIV gives leave to the ambassadors on the 14th of January, 1687. Nevertheless, the visit is a failure: King Phra Naraï is overthrown in 1688 by one of his advisors, Phra Phetracha, who, with the support of court and clergy, will close the country to all foreign influence – except that of Holland…
Your turn to become a visitor to the Palace of  Versailles
Voyage d'hiver
Inedit courses in the groves of the Palace, for the 10 years of contemporary art in Versailles