Practical information
Essential information about opening times and access 
The Palace and the estate of Trianon are open every day except on Mondays. The Palace opens at 9:00 am, the estate of Trianon opens at noon.
The Park and Gardens are open every day. Access to the Gardens is free except on days of fountains shows. 
There are three train stations in Versailles, the closest one of the Palace is Versailles Château Rive Gauche.
Accessibility measures have been put in place to facilitate the visit of visitors with disabilities. 
Access to the Park through the Queen's Gate (pedestrians, cyclists and vehicles), the entrance fee is 12 euros per vehicle and through the Sailors' Gate (pedestrians and cyclists). Read all access and times below.
A car park is available at the Place d'Armes (consult rates). Several bicycle parks are available.
The left luggage service is currently suspended. Bulky luggage are not accepted inside the Palace.
See the rules of visit, which are essential for the comfort of visitors and the protection of the heritage.
Today the Palace is open from 9:00 am to 5:30 pm.
In order to reduce your waiting time at the audioguide desk, download the mobile app on your phone now. Completely free, it contains all the audio tours, an interactive map and visitor information.
To ensure the anti-terrorist security plan, opening hours of the gates have changed, every bag or vehicle is controlled upon access and large baggage items are not admitted on the Estate (exceeding 55x35x25 cm).
Find out more
Detailed opening times
Low season

From 1 November to 31 March

High season

From 1 April to 31 October
The Palace
Open every day except on Mondays
Opening times: 9.00 am – 5.30 pm
Last admission: 5 pm
Ticket office closes at 4.50 pm
The Estate of Trianon
The right wing of the Grand Trianon is exceptionnally closed on Tuesday 4 January 2022.
Open every day except on Mondays
Opening Times: 12.00 pm – 5.30 pm
Last admission: 5.00 pm
Ticket office closes at 4.50 pm
The Coach Gallery
Open every Saturday and Sunday,
Opening hours: 12:30 pm - 5:30 pm 
Last admission : 4:45 pm
Access : Free
The estate of Marly
Open every day from 8:00 am to 5:00 pm.
Last admission: 4:30 pm.
Closing of the Bourg Gate: 5:30 pm.
The Royal Tennis Court
The Royal Tennis court is currently closed.
Open every day except on Mondays
Opening times until December, 31 : 9 am - 5.30 pm
Last admission : 4.45pm
The Gardens
Open every day, from 8.00 am to 6.00 pm
save exceptional weather (snow, violent winds...)
Pedestrian access via:
The Main Gate (last admission 5.30 pm) 
The Dragon Gate (12.00 am - 6.00 pm, last admission 5.30 pm)
The Park
Open every day from 8.00 am to 6.00 pm (last admission 5.30 pm) 
save exceptional weather (snow, violent winds...)
Pedestrian access via:
The Main Gate
The Queen's Gate 
The Sailors' Gate  [Exceptionally closed]
The Saint Anthony's Gate [Exceptionally closed on january 20th 2022]
Access for vehicles
via the Queen's Gate (9.00 am - 4.50 pm)
Access for bicycles
via the Queen's Gate (last admission 5.30 pm)
via the Sailors' Gate (9.30 am - 6.00 pm, last admission 5.30 pm) [Exceptionally closed]
via The Saint Anthony's Gate (9.30 am 6.00pm - last admission 5:30 pm) [Exceptionally closed on january 20th 2022]
The Palace
Open every day except on Mondays
and 1 May
Opening times: 9.00 am – 6.30 pm
Last admission: 6 pm
Ticket office closes at 5.45 pm
The Estate of Trianon
Open every day except on Mondays
Opening times: 12.00 pm – 6.30pm
Last admission: 6.00 pm
Ticket office closes at 5.50 pm
The gardens close at 7.30 pm
(evacuation begins at 7.00 pm)
The estate of Marly
Open every day from 7.30 am to 7.30 pm
Last admission : 7.15pm
The Royal Tennis Court
The Royal Tennis court is currently closed.
Opening times from September, 19 on : 9am - 6.30pm
Last admission : 5.45pm
The Gardens
Open every day from 8.00 am to 8.30 pm
Last admission: 7.00 pm
save exceptional weather (snow, violent winds...)
Pedestrian access via:
The Main Gate (8.00 am - 8.30pm, last admission at 7.00 pm)
The Neptune Gate
The Menagerie Gate
The Little Venice Gate
The Park
Open every day from 7.00 am to 8.30 pm
Last admission at 7.45 p.m
save exceptional weather (snow, violent winds...)
Pedestrian access via:
The Main Gate (8.00 am - 8.30pm, last admission at 7.45 pm)
The Queen's Gate (7.00 am - 8.30 pm, last admission at 7.45 pm)
The Sailors' Gate (7.00 am - 7.30 pm, last admission at 7.00 pm) 
The Saint Anthony's Gate (7.00 am - 7.30 pm, last admission at 7.00 pm)
Access for vehicles via:
The Queen's Gate (9.00 am - last admission 7.45 pm)
The Saint Anthony's Gate (only on weekends and on French bank holidays, 9.00 am - last admission  7.45 pm) [Exceptionally closed on january 20th 2022]
Access for bicycles
via the Queen's Gate (last admission 7.45 pm)
via the Sailors' Gate (7.00 am - 7.30 pm, last admission 7.00 pm)
via The Saint Anthony's Gate (7.00 am - 7.30 pm - last admission 7.00 pm) 
Getting to the Palace
By RER C or SNCF train

By shuttle or bus

By car or coach

Bicycle
Access
The Palace

The Estate of Trianon

The Park

The gardens

Shows

The Coach Gallery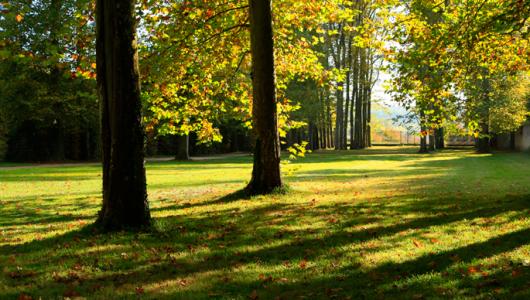 Discover the Estate, the history and the collections
Explore an oustanding Estate
Discover the Estate