the academy
The Academy is an institution dedicated to excellence, built on the transmission of expertise and fertile exchange between different artistic disciplines. A place of creativity and sharing with the public, it was born of a unique adventure shining a spotlight on the equestrian arts in a contemporary way.
Bartabas, the founder of the project, transformed the Royal Stables into a stage. The horseman dreamed of creating his own equestrian ballet company, an exceptional troupe in which each artist could reveal their own talents and excel in original and unusual scenarios.
Outside of Versailles, the Academy also performs its "La Voie de l'Écuyer" show across France and abroad. The troupe puts on original shows in unusual locations and in collaboration with artists from different backgrounds.
shows
La Voie de l'Écuyer
The Academy presents its repertory show, taking the form of a new Opus each year combining the art of dressage, singing, stage fencing, kyudo (Japanese archery), and dance.
The performance is followed by an unaccompanied tour of the Stables. 
Not recommended for children under 5
Saturdays at 6pm and Sundays at 3pm from 29 September to 30 December 2018.
School holidays Wednesdays and 24 and 31 October at 3pm.
Exceptional shows Wednesday 26 and Thursday 27 December at 3pm.
Duration: 1hr 10 followed by an unaccompanied tour of the Stables. 
Price: from €16 to €25
There is no shows from 13 August to 28 September 2018.
Buy a combined ticket with a 2-Day Passport and entry to La Voie de l'Ecuyer - Opus 2017 for €40, and save €6*.
With this package, attend the equestrian show on Saturday at 6pm or Sunday at 5pm in addition to your visit with a 2-Day Passport ticket.
*Offer valid until 16 December 2017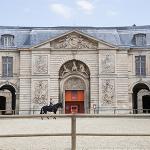 Palace Ticket + Tour of the Equestrian academy of Versailles
This ticket gives you access to the Estate of Versailles and Trianon, including the Palace, exhibitions, the Coach Gallery and a tour of the Equestrian acadamy.
VISITS
Guided tours of the Great Stables
Sundays 10.30am, from 30 September to 30 December.
School holidays Wednesdays and 24 and 31 October.
Exceptional visits Wednesday 26 and Thursday 27 October at 10.30am.
Duration: 1hr 15
Price: €15
Reduced price under eighteen: €10
---
Heritage visit
Discover the King's Great Stables, home to the National Equestrian Academy, a truly contemporary Pages' school.
Wednesdays and Saturdays from 1:30pm to 4:15pm (last entrance at 4pm), from 29 September to 29 December.
Single ticket price: €5
Free for children under 5
Contact:  01 39 02 62 70
---