the academy
The Academy is an institution dedicated to excellence, built on the transmission of expertise and fertile exchange between different artistic disciplines. A place of creativity and sharing with the public, it was born of a unique adventure shining a spotlight on the equestrian arts in a contemporary way.
Bartabas, the founder of the project, transformed the Royal Stables into a stage. The horseman dreamed of creating his own equestrian ballet company, an exceptional troupe in which each artist could reveal their own talents and excel in original and unusual scenarios.
Outside of Versailles, the Academy also performs its "La Voie de l'Écuyer" show across France and abroad. The troupe puts on original shows in unusual locations and in collaboration with artists from different backgrounds.
shows
La Voie de l'Écuyer
Choreographed by Bartabas and the equestrians of the Académie équestre de Versailles, La Voie de l'écuyer - Opus 2021 illustrates the spirit and sensibility of the school-company, which has been based in the Grande Ecurie of the Château de Versailles since 2003.
Based on the transmission of knowledge, the show sees the new class of equestrians evolve on new choreographies and revisit the emblematic tableaux of the Academy, such as the fencing on horseback, the ballet of sorayas with long reins, or the singing carousel.
The performance is followed by a free tour of the stables. 
All ages from 5 years old.
Unheated carousel.
Every weekend, Saturday at 6pm and Sunday at 3pm. During July and August, Sunday performances are exceptionally at 5pm.
Duration: 1h10 followed by a free tour of the stables.
Price: from 16 to 28 €.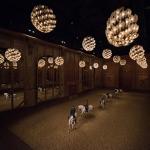 Passport 2 days and Equestrian show
This ticket gives access to the whole of the Estate for 2 consecutive days and also to the Equestrian Show presented at th eEquestrian Academy of Versailles.
---