October 23rd, 1775: My dear friend,
I must apologize for not writing to you more often – we are just so "busy looking around us", as our dear Doctor says. And between Johnson, my husband, France and my journals, you can imagine how the time I'd like to dedicate to you runs out before I can even put ink to paper.
And yet here we are! The cries of gulls have been replaced by the noise of a capital city: Paris. I won't encumber you with descriptions of the city that I'm sure to repeat upon my return. Instead I'd like to confide my impressions of the visit we paid in the last few days to the famous "Château de Versailles".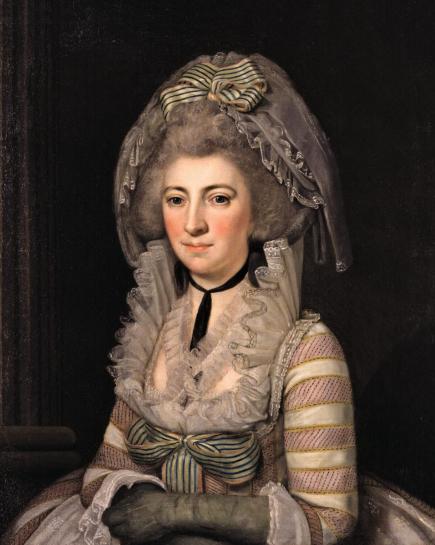 Portrait de Hester Thrale
© National Portrait Gallery, London
Painted in Rome between 1785 and 1786 by an uknown artist, this portrait of Hester Thrale dates from 10 years after her visit to Versailles. After her husband death in 1781, she remaried to Gabriele Piozzi who was her daugter music teacher. This union between two people from different social positions caused a scandal among the British aristocraty. This painting depicts a dynamic and independent woman : you can notice a small scar on the right corner of her lips, memoy of a horse fall. 
To start: a simple question. I ask myself who it was that had the unique idea to call this a "château"! In no way do the sights on offer from the "Place d'Armes" compare to what we usually refer to with the word "château"... This is a city, or even a continent, teeming with activity all over the gardens and buildings. 
My dear, though it may seem strange, this is what I witnessed on the road joining Paris to this living gallery of all that Europe can be in this latest quarter of a century. There was a cortège composed of carriages, chariots, and a crowd on foot. Remarkably, in effect the palace is open to the view of all. Anyone can penetrate to the palace and gardens and walk around freely. I can believe what we were told in Paris: that the French flock to Versailles and never tire of admiring the lavish spectacle of the most sophisticated Court on the continent.
But to suggest that one encounters only French people would be to forget that Versailles is an essential point in the education of every future gentleman. The offspring of nobles and bourgeoisie from the whole continent surround us as we visit the Menagerie and the Petit Trianon. You would have laughed seeing those young fellows accompanied by their tutors, already out of breath despite just starting their "Grand Tour". Bacon said that "travel, in the younger sort, is a part of education". I wonder if for these old men of science it's not more of an ordeal. In any case, the virus has taken all of Europe, from Italy to the court of the Tsar, and even our own country. The walks in the superb park - if the desire takes you to visit, I'd recommend you set aside several days for doing so! - are packed with young, prestigious names who stop by this place of high culture before setting off for Germany or Italy.
In this palace, then, the king lives almost publicly. Having had the chance to go inside, we even saw him in the middle of a meal.
The apartments in the palace have effaced every Sight my eyes have yet seen for Riches, Pomp & Beauty. The Gallery was just 125 of my Steps – so spacious too! & so adorned!
The Façade of Versailles on the great Front is a glorious Pile indeed.
They are never weary of representing to themselves their own Magnificence – Pictures of their Palaces, or of beautiful Spots in their Gardens are the only Pictures one ever sees
With Regard to Furniture nothing can be more gay & at the same Time more rich than the Furniture at Versailles – Cabinets of Sèvres China [...] adorn the Queen's Apartments, where a rich Coffer of Crimson Velvet embroidered with Gold serves to keep her Majesty's Diamonds & is called the Bijouterie.
Source : The French Journals of Mrs Thrale and Doctor Johnson, 1932.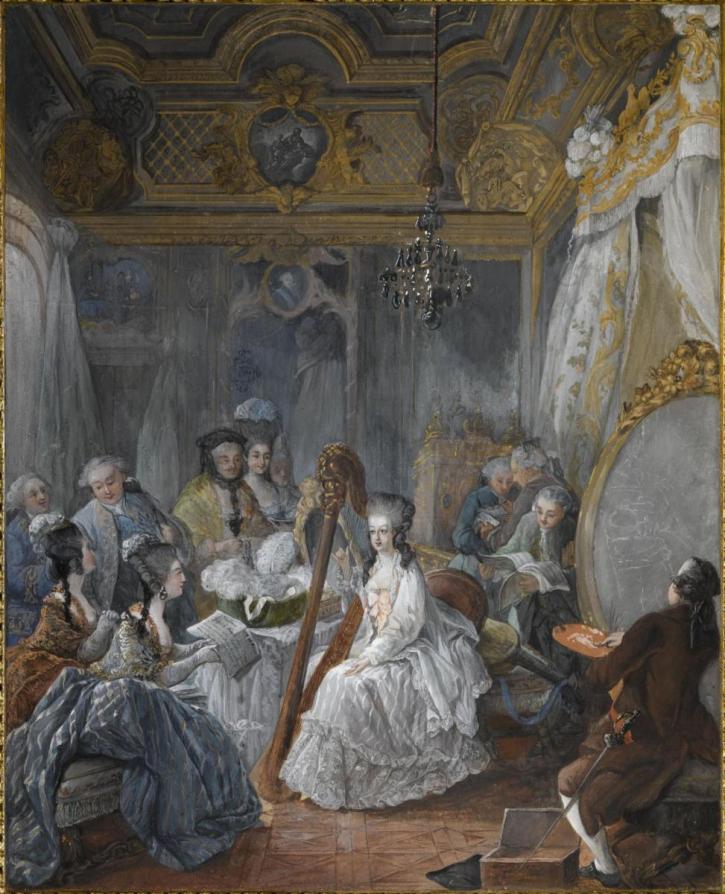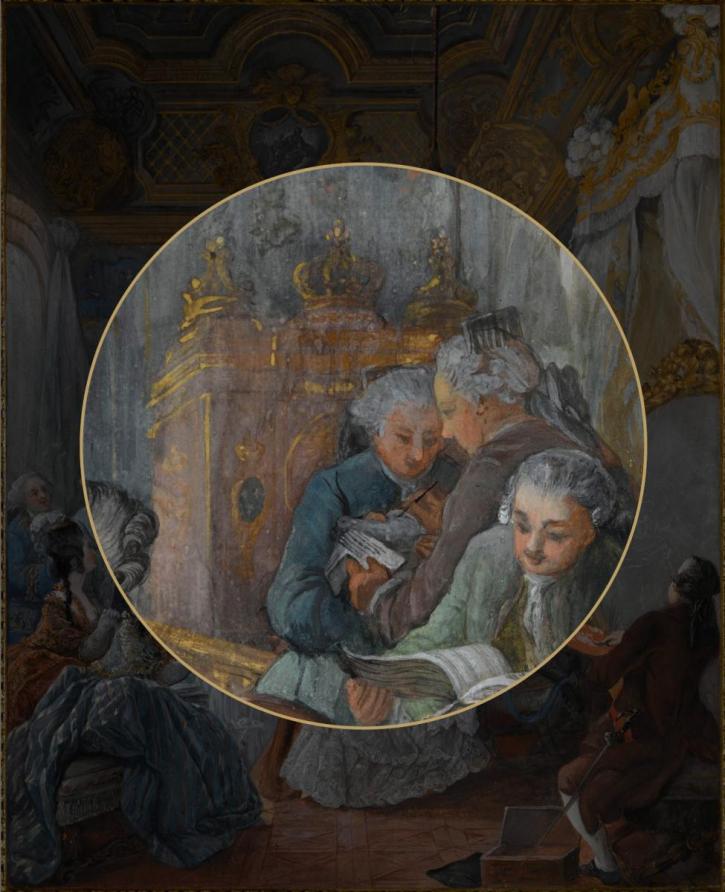 © Ecole nationale supérieure des Beaux-arts, Paris
Like all visitors, Mrs. Thrale could admire the jewel case offered to the dauphine in 1770 and placed in the alcove of the queen's room.
This cabinet, evoking those of the 17th century, was created by the Menus-Plaisirs. The main body of the piece, divided into three parts, rests on a sculpted foot rest. The jewel case is topped by a group representing the queen's crown. The part of the piece visible here is the main body. It was entirely covered with red velvet from Genoa embroidered with gold in the form of the king and queen's coat of arms. As well as gold, there was also bronze ornamentation, the most spectacular of which was a large head of Apollo.
But I must stop here before I go on too long. And it's not, dear friend, that the time I can dedicate to you has run out. No, I shouldn't describe everything, because that would ruin your future pleasure. During our dinner, I was told the story of a traveller so enamoured with the idea of the château that he studied all the engravings and written accounts he could find. When he finally arrived at this place he had visited so often in dreams, he was disappointed, since everything seemed like a pale imitation of his overly rich imagination! Therefore I leave my description there, hoping to find you in good health upon my return.
From its construction until the revolution, Versailles remained an essential destination for every voyager undertaking a "Grand Tour" of Europe. For the grandeur of the building and its gardens, but also for its immense cultural significance, it has never ceased to attract curious people from all walks of life.
Your turn to become a visitor to the Palace of Versailles
Other visitors' tales
Voyage d'Hiver
Inedit courses in the groves of the Palace, for the 10 years of contemporary art in Versailles.