Opening hours according to the sanitary situation:
At the Petit Trianon, Angelina offers walkers a take-out counter from Tuesday to Sunday from noon to 5pm.
Maison Angelina offers quiches, soups, pastries, hot and cold drinks at its Petit Trianon shop, for take-out only. 
Possibility to order with withdrawal on site at 01 39 20 91 67.
For Easter, the point of sale – offers until April 11, on order 48 hours in advance, the creation «Aquarelle» : A whole palette in dark chocolate 70%, filled with an almond-hazelnut praline heart, along with 7 tasty macarons!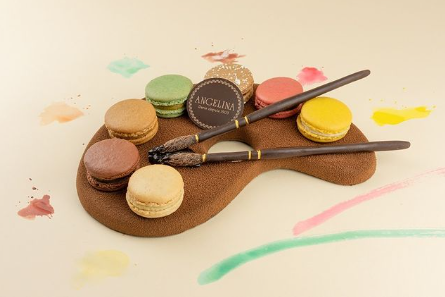 Opening hours: Tuesday to Sunday from 12:00 pm to 6:00 pm in high season (April to October) and from 12:00 pm to 5:00 pm in low season (November to March).
Access:  accessible without a ticket at the entrance to the Petit Trianon on the park side.
Information: + 33 (0)1 39 20 91 67 (booking not available)
www.angelina-paris.fr 
Angelina can be found in one other place on the estate at the restaurant in the palace.