Practical information
Opening hours: Tuesday to Sunday from 10am to 6.30pm in high season (April to October) and from 10am to 5.30pm in low season (November to March)
Dufour Pavilion – First floor
Restaurant accessible via the Courtyard of Honnour, outside the Palace of Versailles visitor circuit.
Booking: +33 (0)1 30 84 12 96
ore@ducasse-chateauversailles.com 
Groups and events: +33 (0)1 30 84 12 98
evenement@ducasse-chateauversailles.com
More info: ducasse-chateauversailles.com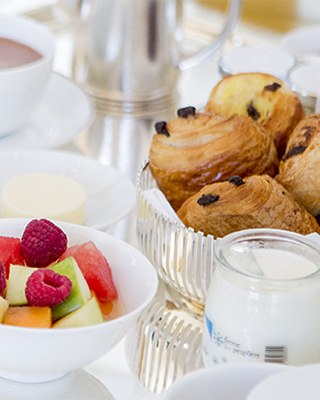 Breakfast & direct access to the visit of the Palace* — €40
Tuesday to Sunday from 9 am to 10:30 am
- Breakfast Le Lever du roi
- Ticket for the visit of the palace with direct access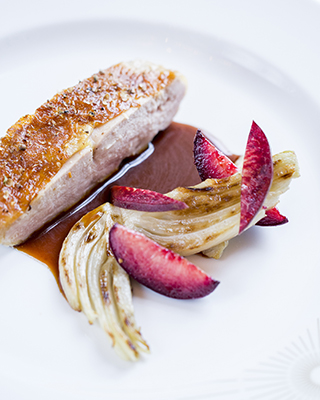 Lunch & direct access to the visit of the Palace* — €80
Tuesday to Sunday from 11 am to 5 pm or 6 pm
- Late Lunch menu at Café ore
- Ticket for the visit of the palace with direct access
*Payment and ticket withdrawl directly in the restaurant ore – Ducasse au château de Versailles – Pavillon Dufour – 1st floor – Place d'Armes – 78000 Versailles
During the day, the restaurant offers something for everyone
Breakfast, lunch, snacks and pastries
There is a warm welcome for everyone, with a special "Princes & Princesses" menu for the youngest guests, while for those in a hurry, there is a healthy, tasty sandwich with roast poultry, courgette, aubergine and basil.
The restaurant also welcomes early risers for a full breakfast that is just the thing for those aiming to be the very first to enter the palace in the morning.
In the evening, an exceptional table for unique events
A menu inspired by the Court, but with today's flavours.
In the evening, Ducasse at the Palace of Versailles offers an exceptional dining experience. Once the visitors have all left the Palace, the restaurant opens only on request for special dinners and exclusive events that are certain to be an unforgettable moment. The setting evokes all the grandeur of times gone by in the restored lounges, with historic menus, an exclusive re-edition of the porcelain of Marie-Antoinette and waiters in all their finery.
"French cuisine with a very modern touch, yet drawing its inspiration from the dishes served at the time. It is so much more than a meal, it is a genuine experience."
Alain Ducasse
For dinner, open on request for exclusive events.
More info:
+33 (0)1 30 84 12 97
evenement@ducasse-chateauversailles.com
ducasse-chateauversailles.com