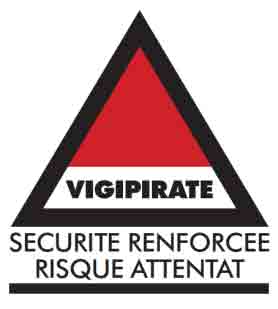 Due to the application of the anti-terrorist security plan (Vigipirate), suitcases and large capacity bags are not allowed on the Versailles Estate premises (through any of the entrances to the Palace, the Park and the Gardens). Bags must not exceed 55cm x 35cm x 20cm and must be deposited at the left luggage offices after going through the security check.
The following items are not allowed inside the Palace and must be deposited at the left luggage facilities:
pushchairs
metal baby carriers
bulky luggage
suitcases, backpacks
umbrellas and any pointed, sharp objects or blunt instruments.
When visiting the Palace with children aged under one year, it is advisable to bring a baby pouch or sling with no metal frame.
Valuable items and clothing cannot be deposited at left luggage.
Left luggage items should be collected at the end of the visit, before 6pm in high season (April to October) and until 5pm in low season (November to March). Retrieve your personal belongings before you visit the gardens because once you have left you cannot re-enter. To get back to left luggage after you have left, you must go through security and ticket checks once again. However, tickets to visit the Palace of Versailles or the Trianon Palaces do not entitle you to re-enter, this is only possible with the Passport ticket.
Location of left luggage facilities
 At the Palace of Versailles you will find:
• a left luggage office for individual visitors (entrance A)
• a left luggage office for groups  (entrance B)
At the Trianon Palaces, there is a left luggage office at the Grand Trianon and another at the Petit Trianon.
Read the rules of visit.