A patronage accessible to as many as possible
Whether you are an individual, a company or a foundation, you can participate in a patronage project. You will be entitled to tax relief and consideration in appreciation for you gesture.
All donations, whatever the amount, help to support our effort to preserve and enhance this world heritage that is also yours. Your support is essential.
To join the circle of patrons of the palace of Versailles, just get in touch with the Patronage Department that will be able to inform and help you in your decision.
Custom-made patronage
Every patronage operation helps to keep this center of artistic creation and excellence, that Versailles has always been, alive. A privileged relationship is forged with every new patron.
Contact the Patronage Department directly:
Serena Gavazzi      Caroline Picard
Thibault Creste      Alexandra Kurkdjian
+33 (0)1 30 83 77 04
serena.gavazzi@chateauversailles.fr 
Choose your project
You can choose a project that suits you and your budget amongst a wide range of possibilities:
Restoration of artworks, decorations, rooms, buildings, garden designs
Adoption of statues, benches, trees or paintings
Acquisition of artworks and furniture
Temporary exhibitions and cultural programming
Amenities and equipment for visitors
Educational and community projects
Shows (with Château de Versailles Spectacles)
You are an individual
If you pay taxes in France, you are entitled to a tax relief of 66% of the amount of your donation, within a limit of 20% of your taxable income per year. If this limit is overrun, you can defer the surplus over the five subsequent years.  
|  Amount of your patronage | Cost after tax relief (66%) |  Actual cost of your patronage |
| --- | --- | --- |
| 150 € | 99 € | 51 € |
|  5,000 € |  3,300 € | 1,700 € |
|  10,000 € | 6,600 € |  3,400 € |
If you live in the United States of America, you can also join the American Friends of Versailles in the restoration of the Queen's Guard Room ceiling. That way you will be entitled to a tax relief according to the Internal Revenue Service (501(c) tax reduction).
Find out about the (French) Friends of Versailles
You are a company or a foundation
Choose the form of your support
Your patronage can be financial, in kind or in skills. The latter form of patronage puts you at the heart of the project while highlighting the expertise of your company.
Indeed, for companies that can provide specific skills that could be mobilized for one of the Palace's projects, a skill-based patronage allows to highlight the company's expertise within the estate of Versailles (by involving teams to carry out the work).
The patronage can also be dual: both financial and skill-based. The company can value its support according to its production cost and deduct 60% off the corporate tax (if the company pays taxes in France, within the limit of 0.5% of its turnover before taxes, and allocated over five years if the limit is overrun).
Benefit from a corporate tax relief in France
60% off for any patronage operation (within the limit of 0.5% of the company's turnover before taxes, and with the option of allocating the surplus over the five subsequent years if the limit is overrun).
90% off for the purchase of a 'National Treasure' (capped at 50% of due corporate tax).
| Amount of your donation | Cost after tax relief (60%) | Amount of your consideration (25%) | Actual cost of your patronage |
| --- | --- | --- | --- |
| 30,000 € | 18,000 € | 7,500 € | 4,500 € |
| 100,000 € | 60,000 € | 25,000 € | 15,000 € |
| 500,000 € | 300,000 € | 125,000 € | 75,000 € |
| 1 500,000 € | 900,000 € | 375,000 € | 225,000 € |
Benefit from unique and tailor-made consideration
Benefits are granted for up to 25% of the amount of the donation.
External communication
You will be associated to the Palace's promotion campaign towards the press (conferences and visits) and the public. You will benefit from a large visibility to the millions of visitors of the estate. You will be able to use the Palace's brand image for your institutional communication. 
Internal corporate communication
A patronage operation is an exceptionally impactful communication tool, in both external and internal corporate communication, a great opportunity to give sense and motivation to all associates.
You will be given the possibility to organize restoration workshop visits, meetings with curators, architects, conservators, conferences within the company around the patroned project, seminars, meetings or assemblies in the Palace's rooms.
You will also be able to enjoy priority admission tickets for the Palace.
Public relations
Your will benefit from the free provision of spaces in the Palace and Estate of Versailles to host prestigious public relations events, with possible private tours of the Palace outside public opening times (10 to 2,000 participants).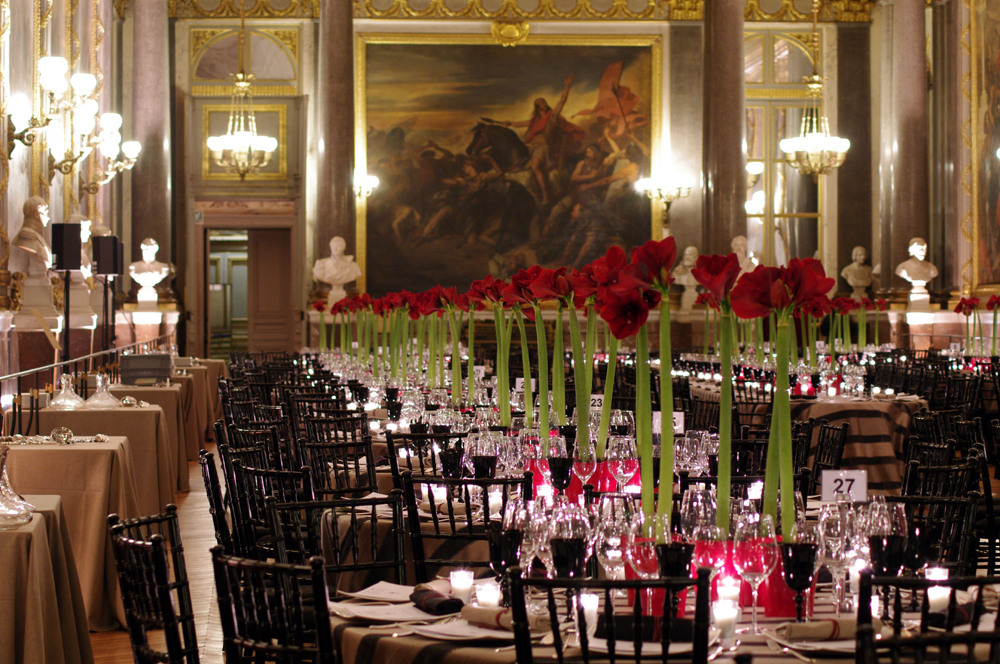 What about using your consideration for a greater cause?
You have the option to organize, as part of your benefits, one or several event(s) specifically targeted for groups of people far from the world of museums.
For example, an exceptional opening of the Palace on a Monday (weekly closing day) offers the liberty to organize original tours and activities with a mind to encourage access to culture and heritage for all. Likewise, programming a special concert at the Royal Opera of the Palace of Versailles offers a unique opportunity to generate interest in music.