Visiting with your group
For a multidisciplinary approach to Versailles, there are several visit options available to schools in areas as varied as history, fine art, heritage, humanities, science and technology, and music. Leisure centres may also book the educational activities and guided tours offered to school groups.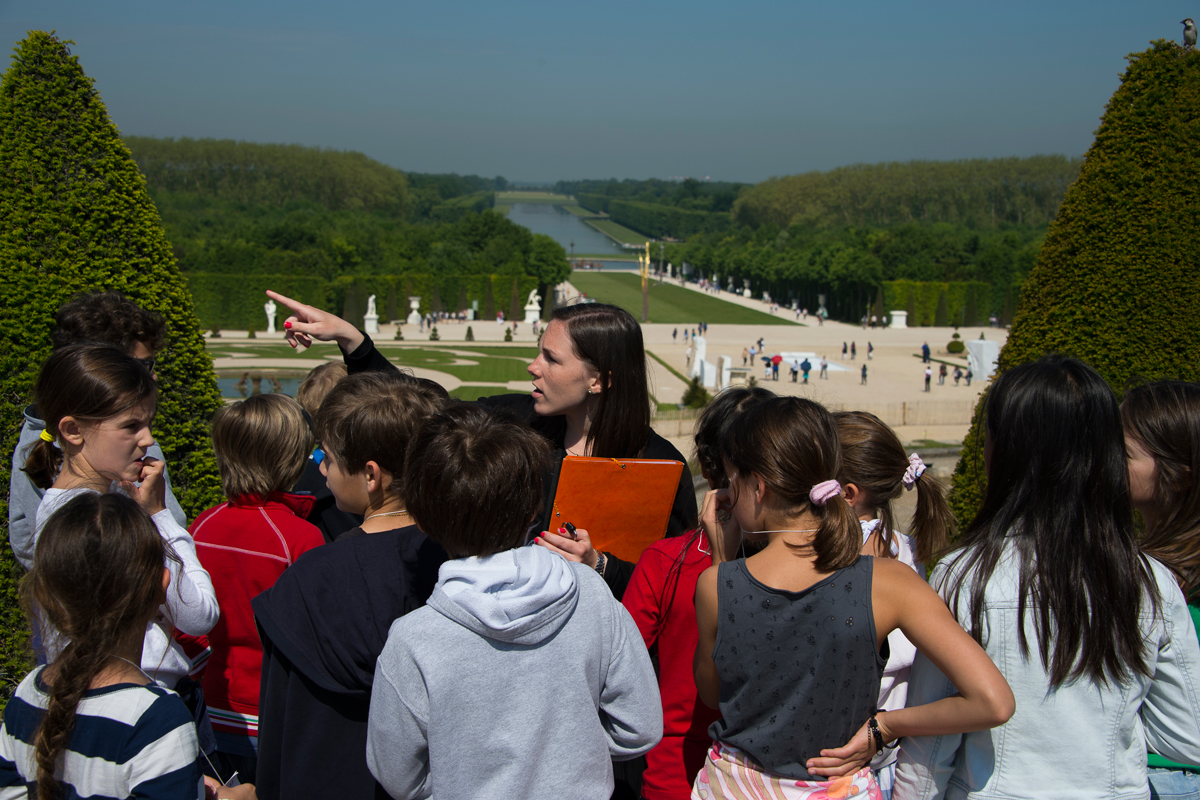 © EPV / Didier Saulnier
Self-guided tours
Self-guided tours of the palace require reservation and enable you to take advantage of speaking rights and a time slot for direct visit access via Entrance B.
Guided tours
Guided tours are conducted by a speaker. These visits are an opportunity to discover the Palace, its great characters and its collections, and explore the highlights of its history.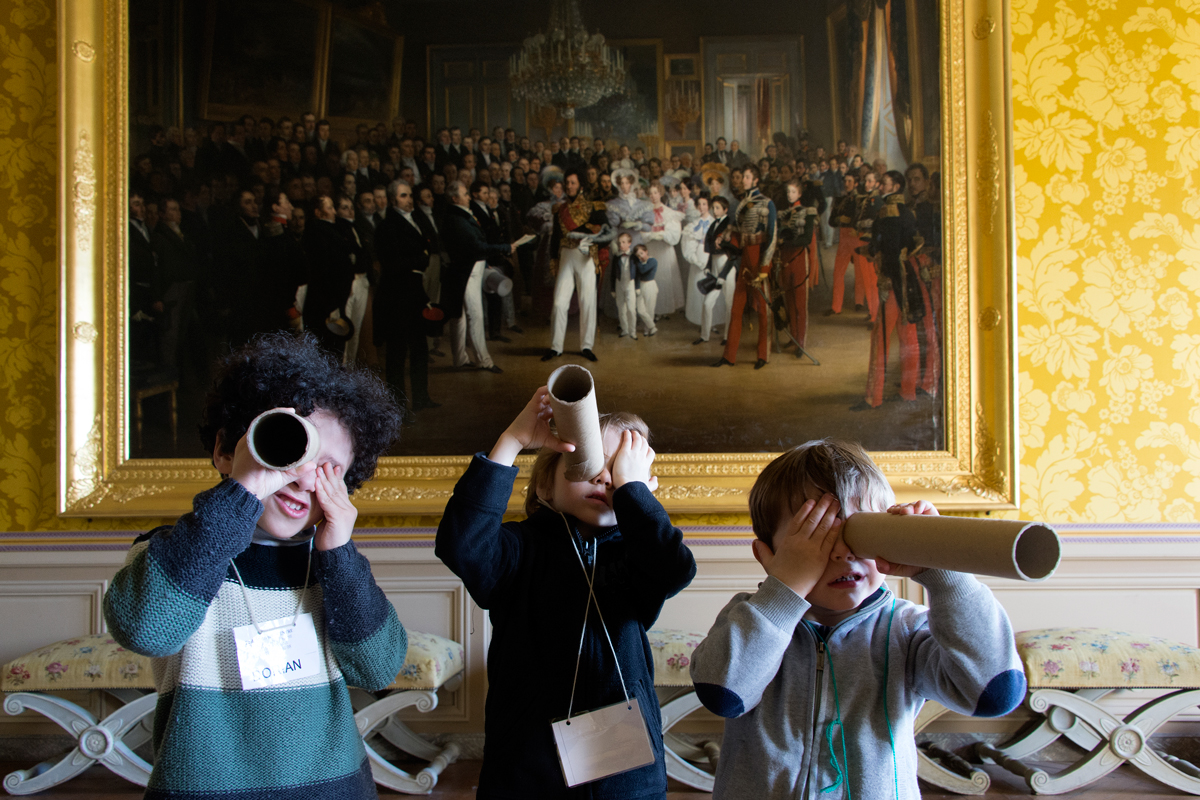 © EPV / Didier Saulnier
Individual visits
Individual visits to the Palace and the Trianon palaces are made without reservations and without speaking rights. On the day of the visit, the teacher must have a list of students with their dates of birth (official document from the educational institution). Please note that this form does not enable you to jump the queue.
School groups can visit the Versailles gardens without making a reservation.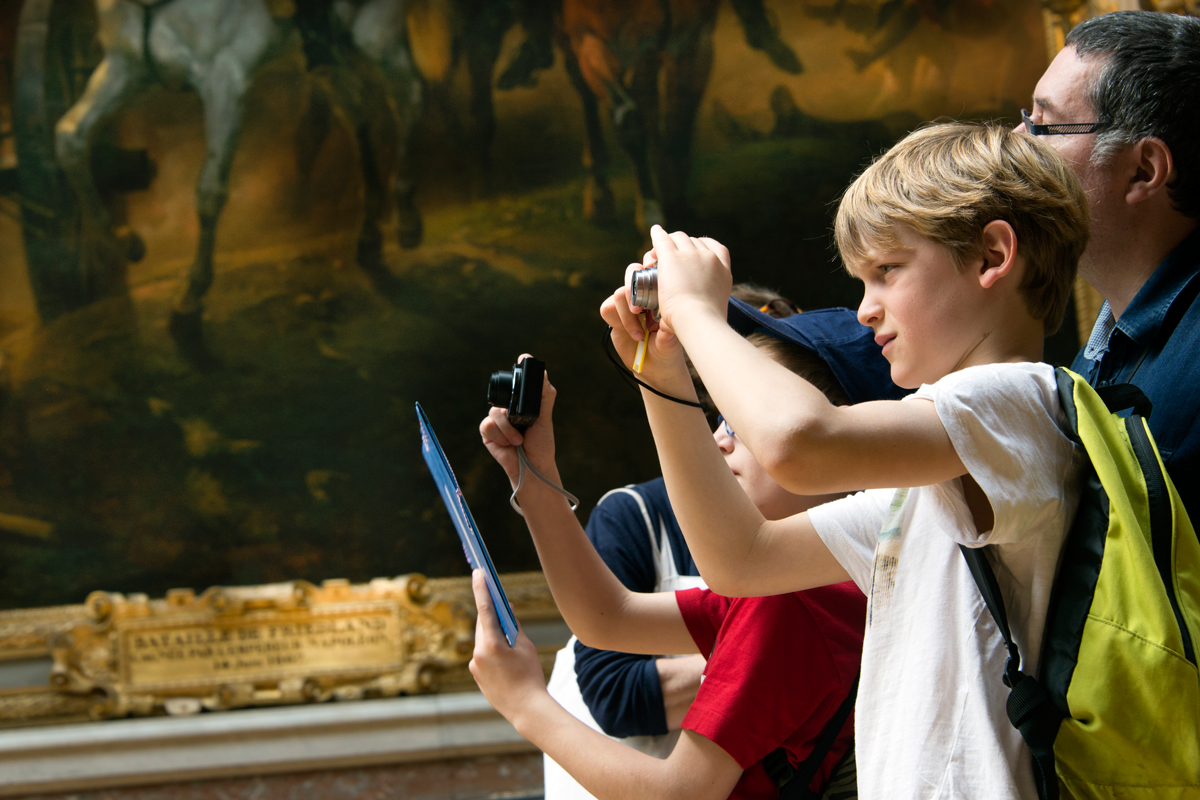 © EPV / Didier Saulnier
Reservation conditions
These reservation conditions apply to educational activities, guided tours, videoconferences and self-guided tours.
Reservation required
Reservations open 3 months prior to the date of visit, on the first day of the month at 8:30 am (e.g. for a visit in January, reservations open on the first working day of October at 8:30 am). Requests are handled in the order that they are received.
To ensure a fairer distribution of bookings, a maximum of 60 people including accompanying adults (i.e. two groups of 30 people) from the same establishment are permitted to visit on a single date.
If the reservation request is accepted, the requester will be emailed a document. To confirm the reservation, payment must be made as follows:
For bookings placed between 3 months and 31 days before your visit, payment should be made within the next 15 days.
For bookings placed between 30 days and 16 days before your visit, payment should be made within the next 48 hours.
Booking is not possible 15 days or fewer before the day of the visit.
Group composition
For guided tours, educational activities and self-guided tours in a school or extra-curricular context, groups may consist of a maximum of 30 people including accompanying adults.
Infant school: 1 accompanying adult per 5 pupils
Primary school: 1 accompanying adult per 10 pupils
Secondary school: 1 accompanying for 15 students.
If the group contains additional adults not considered to be accompanying adults, they must number a maximum of 3 and will be required to purchase a ticket.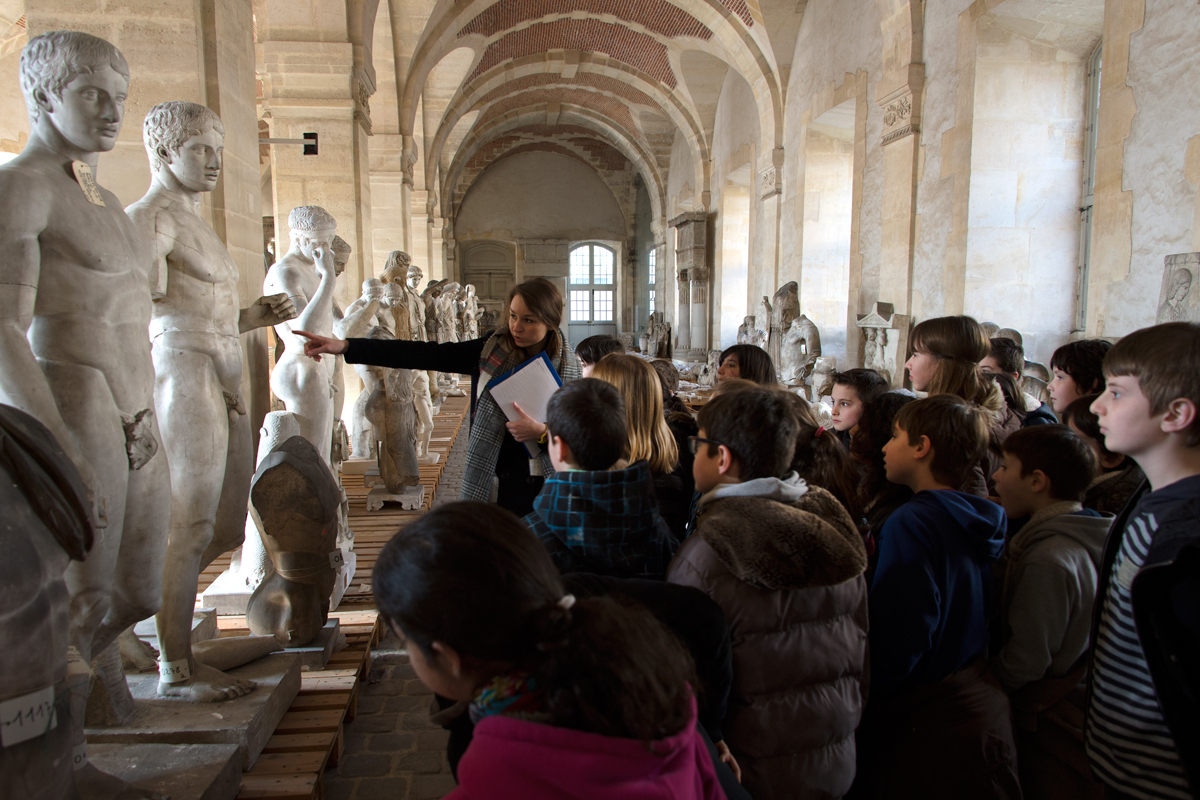 © EPV / Didier Saulnier
Preparing your group before the visit
Identifying locations before arriving with your class
Since April 2009, the "Pass Éducation" has enabled all teachers working under contract in public and private schools and secondary level establishments (school, college, high school) to access permanent collections at museums and national monuments free of charge.
The Palace of Versailles invites these teachers to use their card to access Versailles free of charge in order to scout out locations before arriving with their class.
The "Bienvenue" interactive map
To supplement the website, "Bienvenue" offers you information before and during your visit by helping you to find your way around the Estate's locations and services. Built as an interactive map, the site answers 150 of the most frequently asked questions. Compatible with tablets and smartphones and accessible via a 3G connection, this site can be visited anywhere and at any time.
Attire
We recommend planning suitable clothing for your students depending on the visit type you have selected. If visiting the Real Tennis Room and the Gallery of Coaches, we recommend warm clothing.
Making students aware of heritage
The Palace of Versailles is a UNESCO World Heritage Site.
To protect this heritage, various rules are in place for all visitors to the Palace and the Estate of Versailles.
The following are in particular prohibited:
Touching works of art in the Palace and vases or statues in the gardens
Running, jostling, sliding or climbing
Leaning against display cases, plinths and other presentation elements
Crossing barriers and equipment designed to contain the public
Leaving personal items unattended, even for a few moments
Bringing food or drink into the Palace of Versailles
Using camera sticks within the Palace and the Trianon palaces
Using mobile telephones during a visit
Walking on the grass in the gardens
Eating picnics in the Versailles gardens (picnics are however permitted in the park)
Consult the regulations for visiting the Versailles and Trianon museum
Consult the regulations for visiting the Versailles and Trianon estate
In Versailles
Identifying reception and surveillance officers
Reception and surveillance officers are on hand to provide you with information. These officers, who can be identified from their badges, can be found throughout the visit (in the courtyard, in the gardens, and at the museum entrance and exit). If a student becomes lost, they can contact an officer directly who will then immediately take charge of the student and take measures to find their accompanying adults. Similarly, accompanying adults can contact an officer if they lose a student.
Respect for presenters
Speakers from the Réunion des Musées Nationaux (RMN), presenters and artists are all professionals whose mission is to share the Palace's history. Out of mutual respect, it is therefore vital to extend them the best possible welcome and follow their instructions.
Use of cameras
Works of art in the permanent exhibition rooms can be photographed or filmed for private use, excluding any use for groups or for commercial purposes.
In the temporary exhibition rooms, camera use is forbidden unless otherwise indicated at the entrance.
To protect works of art and for the comfort of visitors, the use of camera flashes and camera sticks is prohibited throughout the entire of the museum.