Contact
Events service
evenements@chateauversailles.fr
The Palace of Versailles makes the museum's and estate's spaces available for use by companies, institutions and associations for organising prestigious evening events such as gala dinners, cocktail receptions, concerts, balls, exclusive tours, fountain displays and fireworks.
The Gallery of Great Battles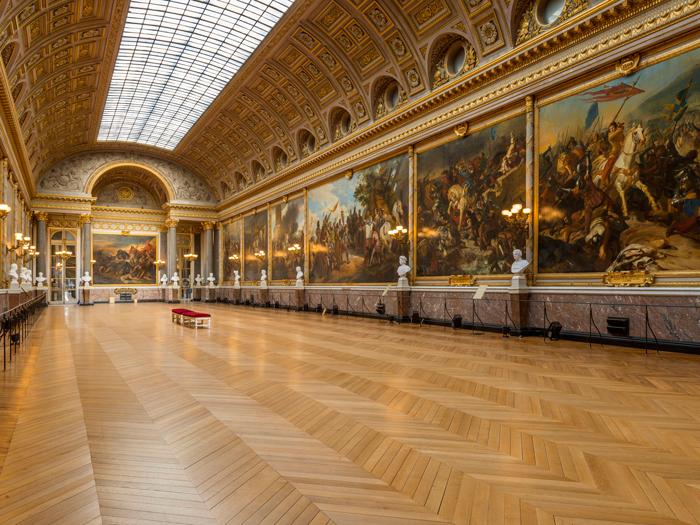 Covering the length of the South Wing's first floor, this sumptuous gallery was created by King Louis-Philippe in 1837. The 35 paintings covering its walls, which include The Battle of Taillebourg Won by Saint Louis by Eugène Delacroix, The Entry of Henry IV into Paris by François Gérard and The Battle of Fontenoy by Horace Vernet, recount the most significant episodes in France's military history from Tolbiac (496) to Wagram (1809).
This room is available for organising dinners and cocktail receptions for 600 to 800 people.
Length: 120 m, width: 13 m.
The Crusades Room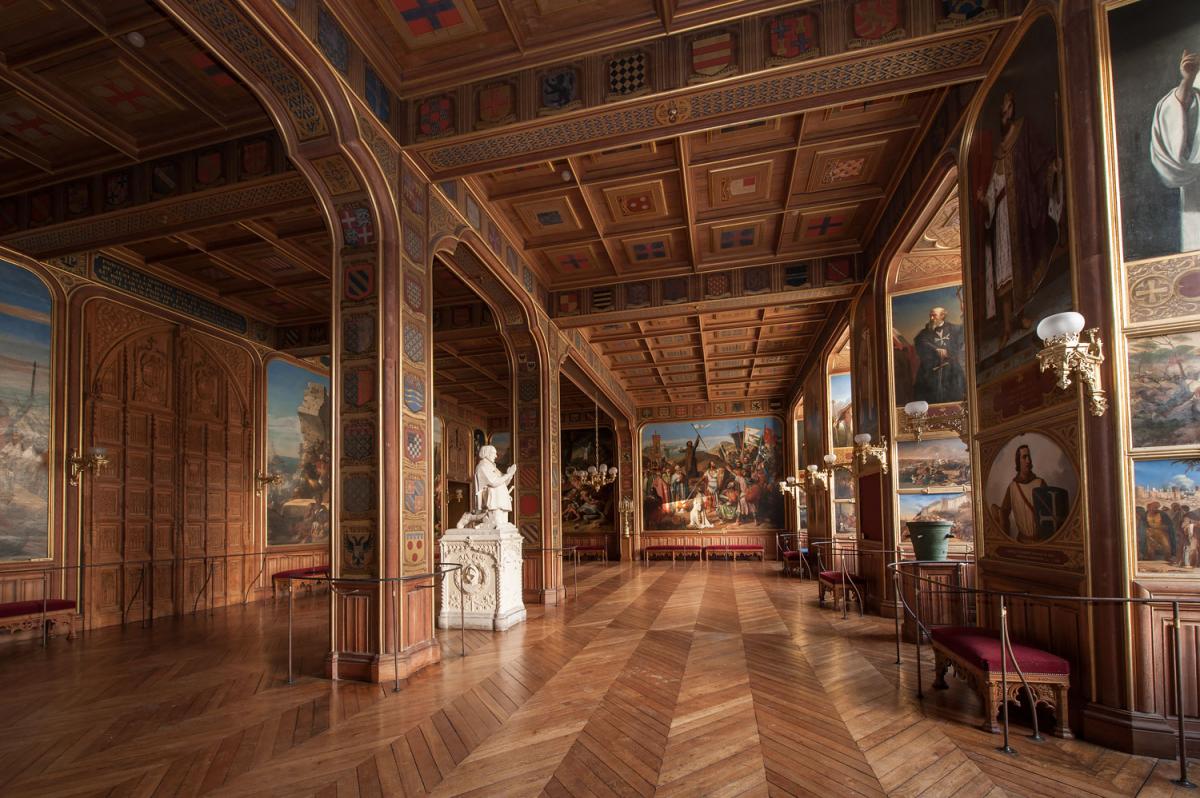 Accessible via the ground floor gallery in the North Wing, these five rooms with their neo-Gothic decoration depict the key events of the Crusades through 19th-century official paintings. Coats of arms of the most illustrious crusaders adorn the ceiling coffers and pillars.
The largest room (250m²) can host dinners for 180-200 people and cocktail receptions for 300-400 people.
The Orangery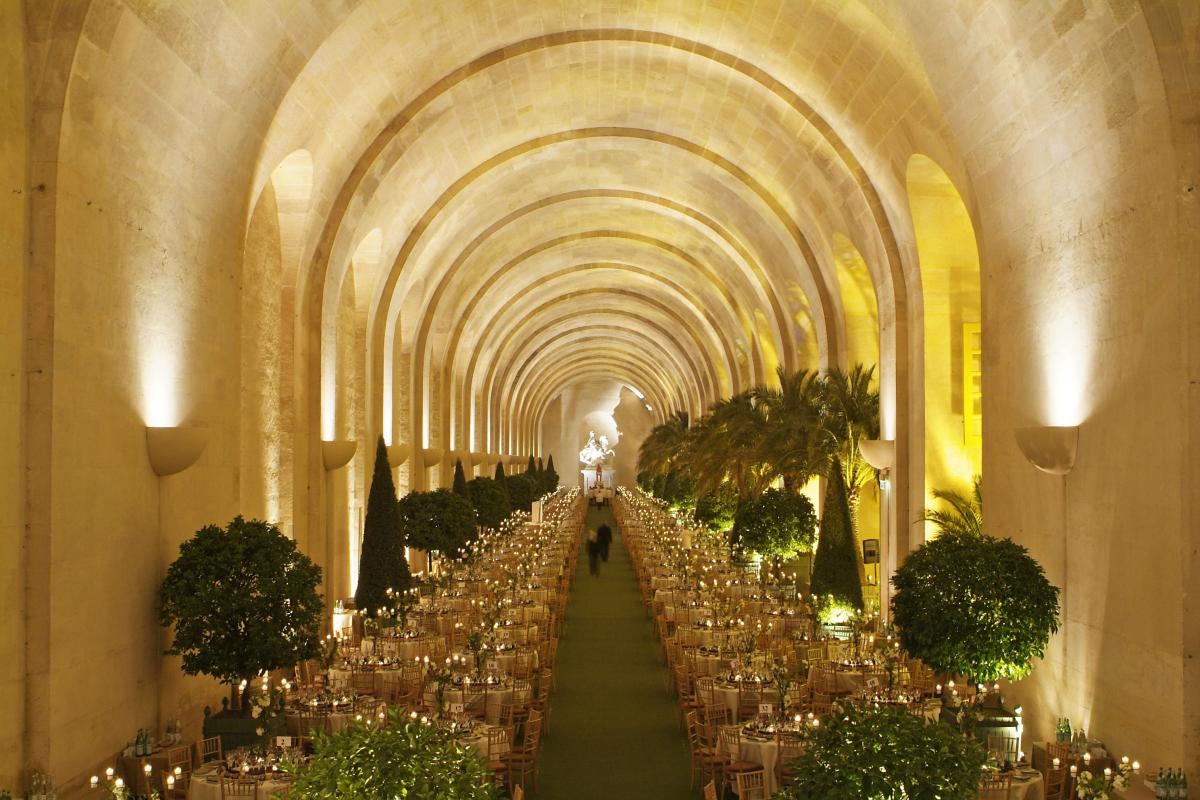 Built between 1684 and 1686 by Jules Hardouin-Mansart to house precious trees and shrubs in winter, this extraordinarily large building lies below the South Parterre, for which it provides structural support. Two monumental staircases called the "Hundred Steps" flank the three galleries of the Orangery which overlook the parterre containing more than 1,200 exotic trees during the summer months.
The Orangery is available for use for your events from 20 May to 20 October (dinners, cocktail receptions, dance evenings, performances, fashion shows).
Capacity: 1,200 people seated or 2,500 standing.
The central gallery is 156 m long, 12 m wide and 13.24 m high, and the side galleries are 70 m in length.
Le salon d'Hercule
Situé au premier étage de l'aile Nord du château, le salon d'Hercule est la porte d'entrée vers le Grand Appartement du Roi. Outre son précieux décor de marbres colorés scandé de pilastres corinthiens, on peut y admirer le Repas chez Simon de Véronèse, à cet emplacement depuis 1729, offert par la République de Venise à Louis XIV. Dans ce lieu traversé quotidiennement par le roi se rendant à la Chapelle se sont tenu de grandes fêtes royales, et vos cocktails s'inscriront dans ce lieu à la suite du grand « bal paré » de 1739. Le plafond représentant l'apothéose d'Hercule, peint par François Lemoyne, valut à son auteur le titre de Premier peintre du Roi. 
Utilisation : dîner assis / cocktail / cocktail dînatoire
Capacité - assis : 150 pax / debout : 250 pax
Le Vestibule Haut de la Chapelle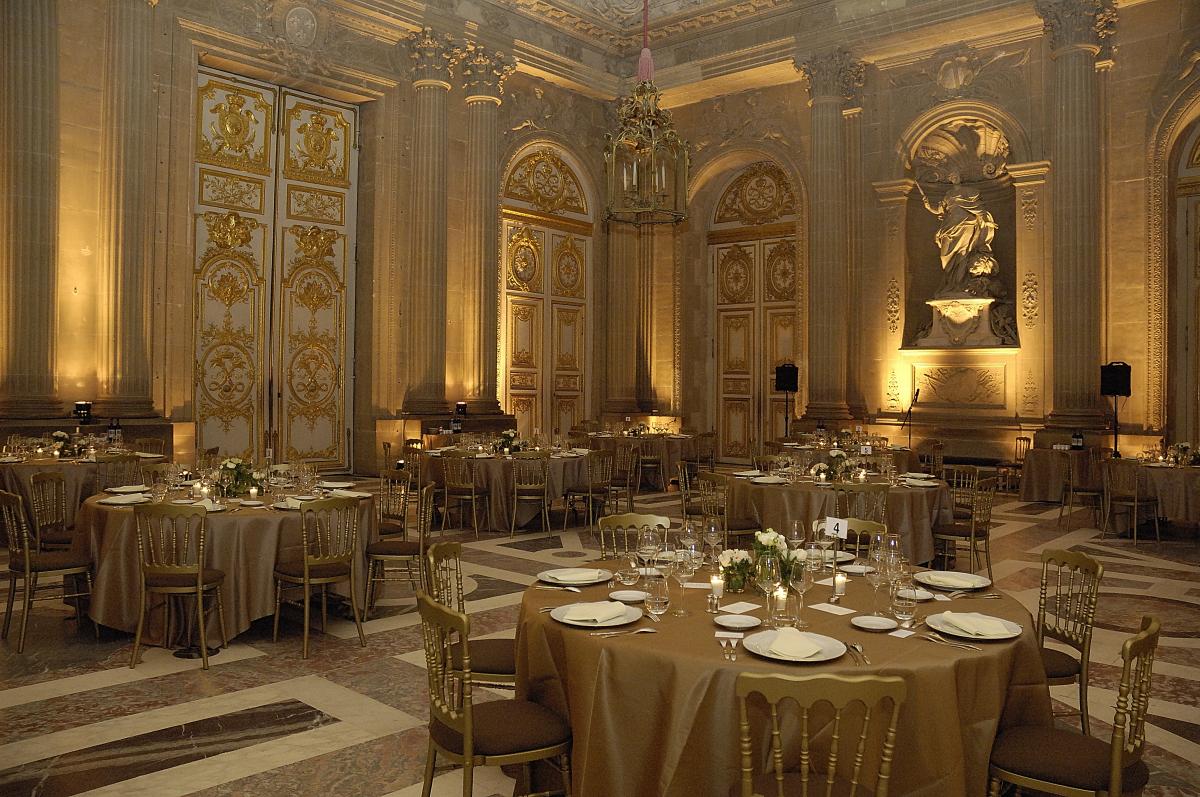 Situé au premier étage de l'aile Nord du château, au-dessus du vestibule de la Chapelle et ouvrant directement sur la tribune royale, ce salon présente une architecture identique à celle de la Chapelle Royale.  Cette salle, dallée de marbre et scandée de colonnes corinthiennes, est magnifiquement encadrée par la Magnanimité de Jacques Bousseau, et la Gloire tenant le portrait de Louis XV par François Antoine Vassé. La grande porte, dont la serrure finement ciselée est l'œuvre admirable de Desjardins, ouvre ses vantaux sur la Chapelle, et offre la perspective de son orgue.
Utilisation : dîner assis / cocktail / cocktail dînatoire
Capacité - assis : 150 pax / debout : 250 pax
La Galerie Basse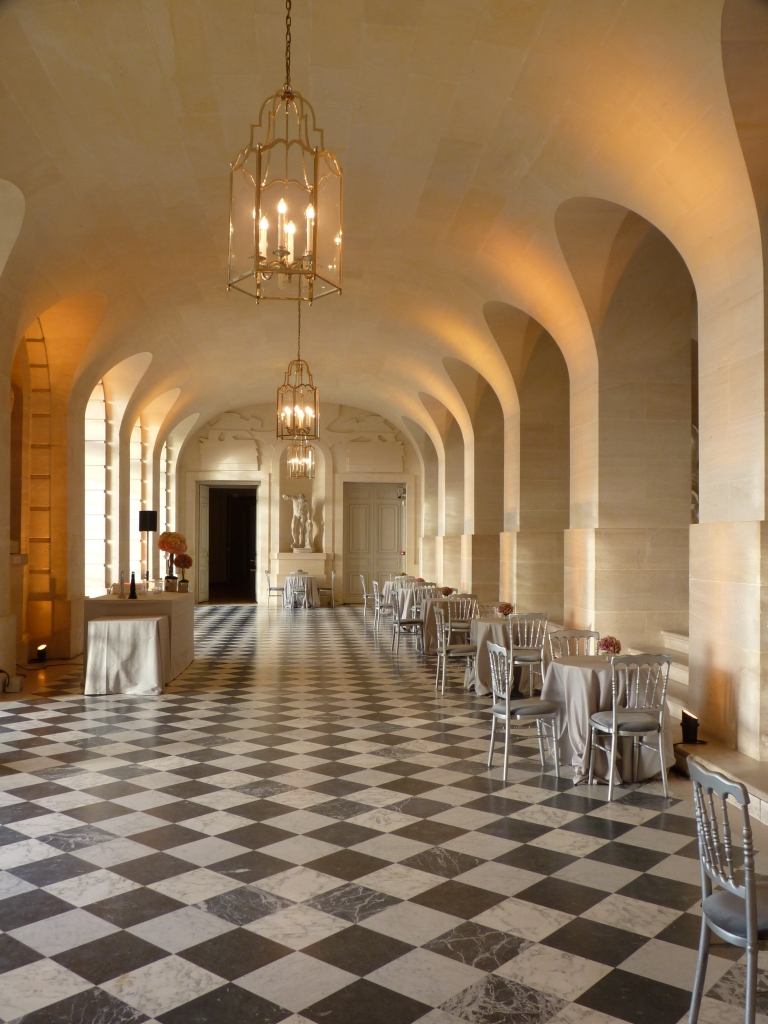 Déjà présente dans l'enveloppe originale des premiers temps du château, cette galerie sobre et épurée est située juste sous la Galerie des Glace, entre la Cour de Marbre et les jardins. Précédée d'un vestibule orné de colonnes et de pilastres, les niches abritent les œuvres de la Grande Commande de Louis XIV, série de 24 statues initiée par Le Brun illustrant les thèmes universalistes des quatre parties du monde, des quatre saisons, des quatre heures du jour, des quatre tempéraments de l'homme, des quatre genres poétiques et des quatre éléments. Idéale pour des rassemblements intimistes, cette galerie ouvre ses portes par beau temps sur la grande perspective des jardins de Versailles, classé au patrimoine mondial de l'humanité.
Utilisation : dîner assis / cocktail / cocktail dînatoire
Capacité - assis : 120 pax / debout : 250 pax
The Cotelle Gallery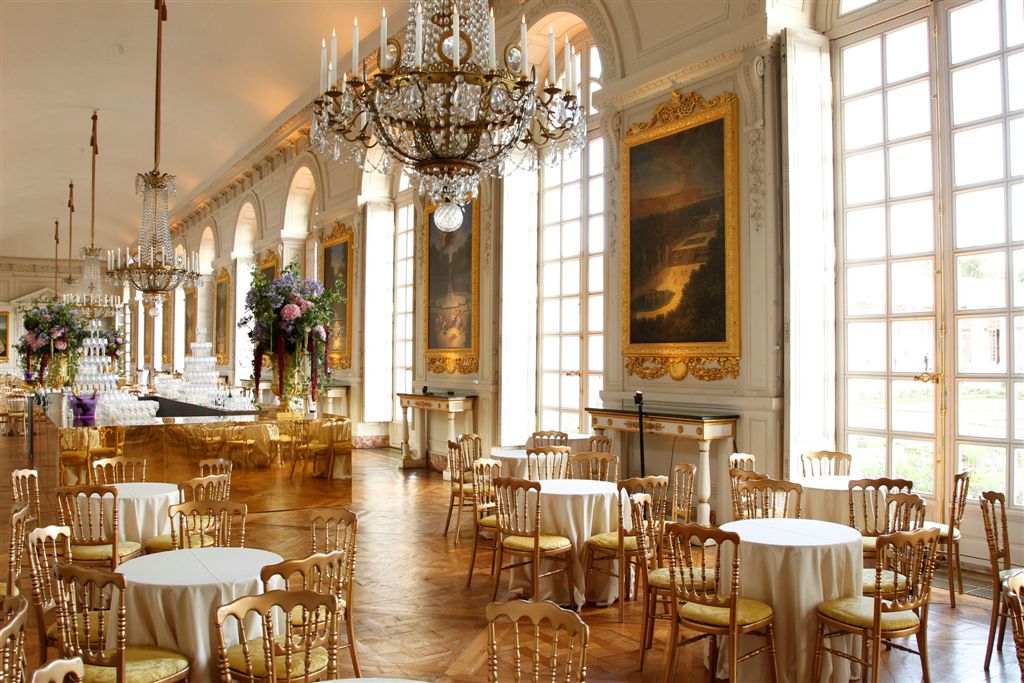 This refined, light gallery opens onto the gardens on both sides and is decorated with paintings by Jean Cotelle (1642-1708), depicting the park and groves of Versailles during the reign of Louis XIV. It is located in the North Wing of the Grand Trianon, the marble palace commissioned by the King in 1687 and built in the heart of a sumptuous garden by his architect Jules Hardouin-Mansart.
The Grand Trianon gallery can host 250 people for a seated dinner or 400 people for a cocktail reception. It has excellent acoustics for chamber music concerts.
Royal Opera House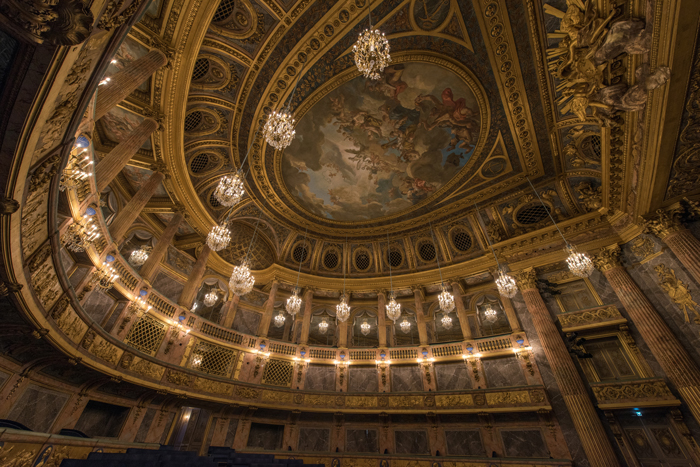 A masterpiece by Ange-Jacques Gabriel and Blaise-Henri Arnoult, First Architect and First Theatre Technician to Louis XV respectively, the Royal Opera House was unveiled on 16 May 1770 to celebrate the marriage of the Dauphin, later King Louis XVI, to the Archduchess of Austria Marie-Antoinette. The large size of the stage, quality of the acoustics, perfection in the proportions and refinement of the decoration by painter Durameau and sculptor Pajou make it one of the most beautiful theatres in the world.
The Royal Opera House can host up to 600 people during the evening for musical, dance, theatre or opera performances (stage: 12.30 m opening, 23 m deep, 36 m high).
Les Visites privilèges 
Sous la conduite d'un conférencier, le temps d'une visite d'une heure et demie, le château de Versailles est ouvert spécialement pour vous. Parcourez les appartements royaux, la galerie des Glaces, en dehors des heures d'ouverture au public et découvrez Versailles autrement.
Contact
Service des relations publiques, des événements et des tournages
evenements@chateauversailles.fr