Saint Matthieu
Represented as an old man, Saint Matthew the apostle is shown with a long, curly beard and an expressive face. He is wearing trousers and a short tunic with fringes, covered by a cloak with tassels, the traditional Jewish garment which alludes to his role as an evangelist closely linked with Old Testament law. He is holding a a stylus in his right hand and writing on tablets resting on his left arm.
Traditionally believed to be the author of the first Gospel, Saint Matthew was once a tax collector in Capernaum before Jesus invited him to follow him and become one of his disciples. After the Ascension, he left to evangelize Ethiopia, where he resurrected the king's son and prevailed over two magicians who had set themselves up to be worshipped as gods. Many years later he died as a martyr, decapitated, stoned or burned alive by order of the next king. Saint Matthew is the patron saint of bankers and tax officials.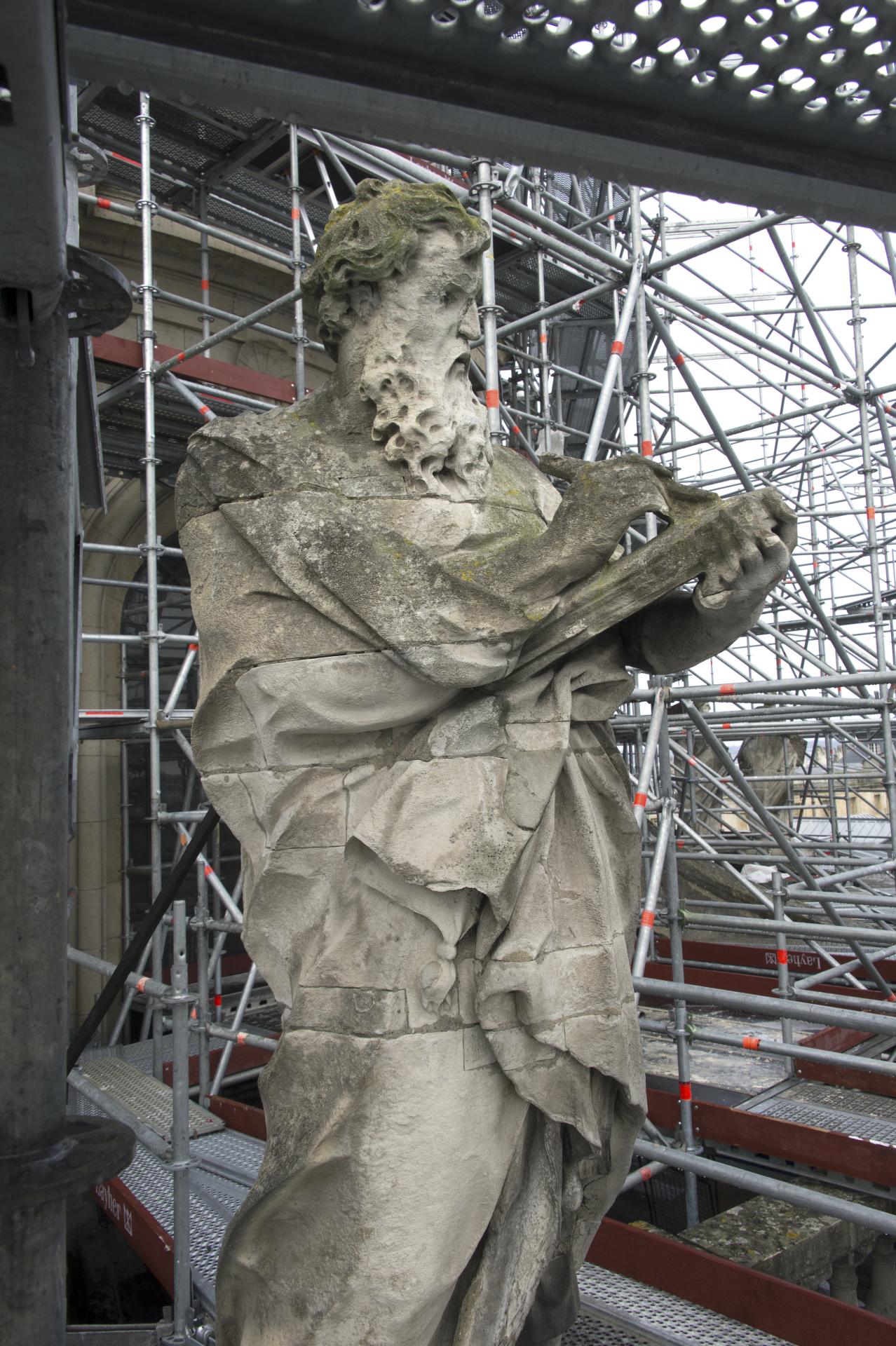 sculptor Corneille Van Clève
As a descendent of a family of goldsmiths, Corneille Van Clève specialised in bronze work. The supple, elegant nature of his work caused him to become one of the main artists behind the introduction of the Rococo style in France. After a ten-year stay in Rome and Venice, he was admitted to the Academy upon returning to France. He sculpted for the king at Versailles, the estate of Marly, the Hôtel des Invalides and in the choir of Notre-Dame. His work can be admired in the gardens of Versailles, with the statue of Sleeping Ariadne and the Children of the Water Parterre, as well as inside the Royal Chapel with the high altar, which was culminating point of his art, with the bas-relief of Dead Christ, the Adoring Angels, Radiant Glory and the Adolescent Angel with Outspread Wings, all in gilded bronze.