Saint Bartholomew
Represented as an ageing man, Saint Bartholomew the apostle has a thick beard and long hair. He is wearing a tunic and a cloak and is brandishing a Roman sword in his right hand. Although he is included each time in the lists of the 12 apostles, Saint Bartholomew is mentioned very little in the Gospels or the Acts of the Apostles. After the death of Christ, he left to evangelise Arabia and Mesopotamia before going to Armenia, where he died. Legend has it that he was flayed alive with a knife before being crucified. Several Western churches claim to conserve different-sized relics of pieces of his skin. This has led to him being considered as the patron saint of all crafts related to working skins, such as butchers, tanners, glove-makers, bookbinders and curriers.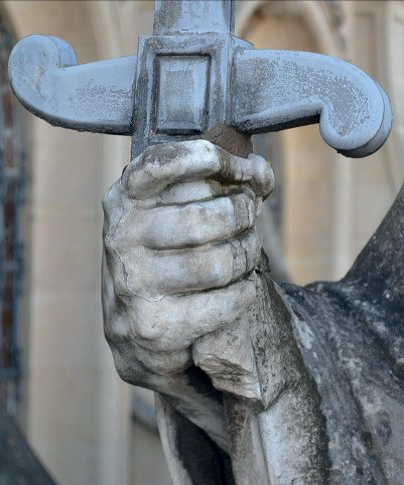 THE SCULPTOR ANSELME FLAMEN
Born in Saint-Omer, Flamen trained in Paris under his fellow countryman Gaspard Marsy. After a period spent at the French Academy in Rome between 1675 and 1679, he was received at the Academy Royal in 1681 and worked regularly at Versailles. He notably sculpted the two groups titled Fauna with a Kid and Cyparissus with his Stag for the Royal Way. His style is characterised by light gracefulness.