the water parterre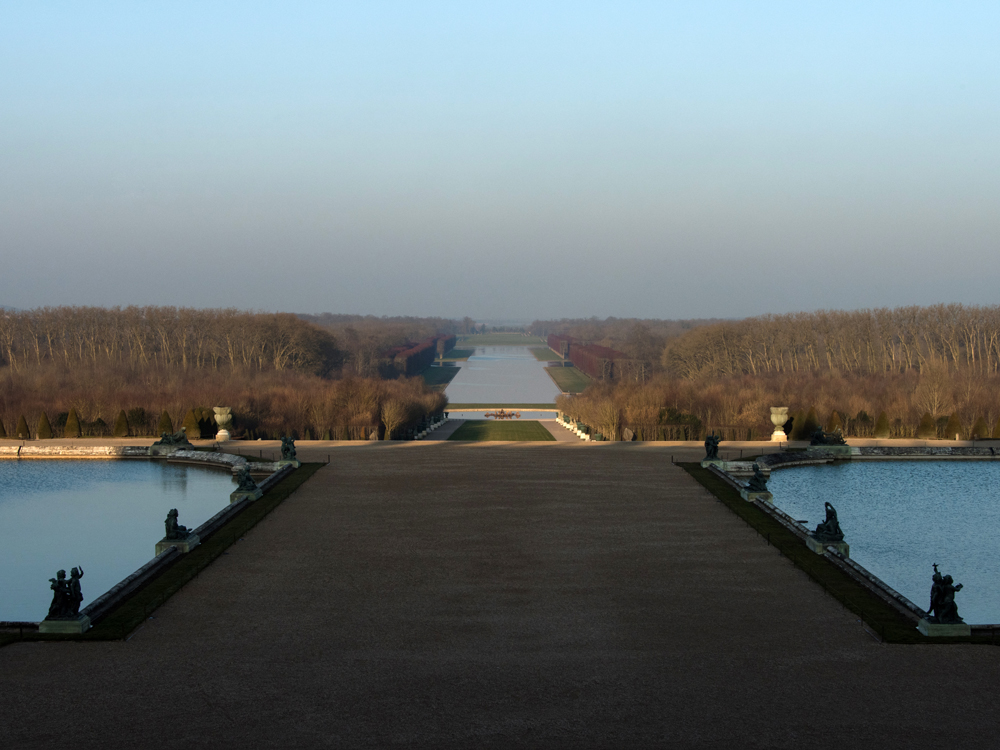 These two large rectangular pools reflect the sun's rays and light up the outside wall of the Hall of Mirrors. Le Nôtre considered light as an element of decoration in the same way as plant life, and his designs combined a harmonious balance of light and shade.
This parterre was modified several times and was only given its definitive form in 1685. The sculpted decoration was designed and its creation overseen by Charles Le Brun. Each pool is framed by four bronze figures representing French rivers: The Loire and The Loiret (by Thomas Regnaudin), The Rhône and The Saône (by Jean-Baptiste Tuby), The Seine and The Marne (by Étienne Le Hongre) and The Garonne and The Dordogne (by Antoine Coysevox). In addition to these there are four nymphs and four groups of children placed on the long edges.
The central section of the Palace is bordered by two parterres whose broad designs help showcase the façades of the building.
the north and south parterres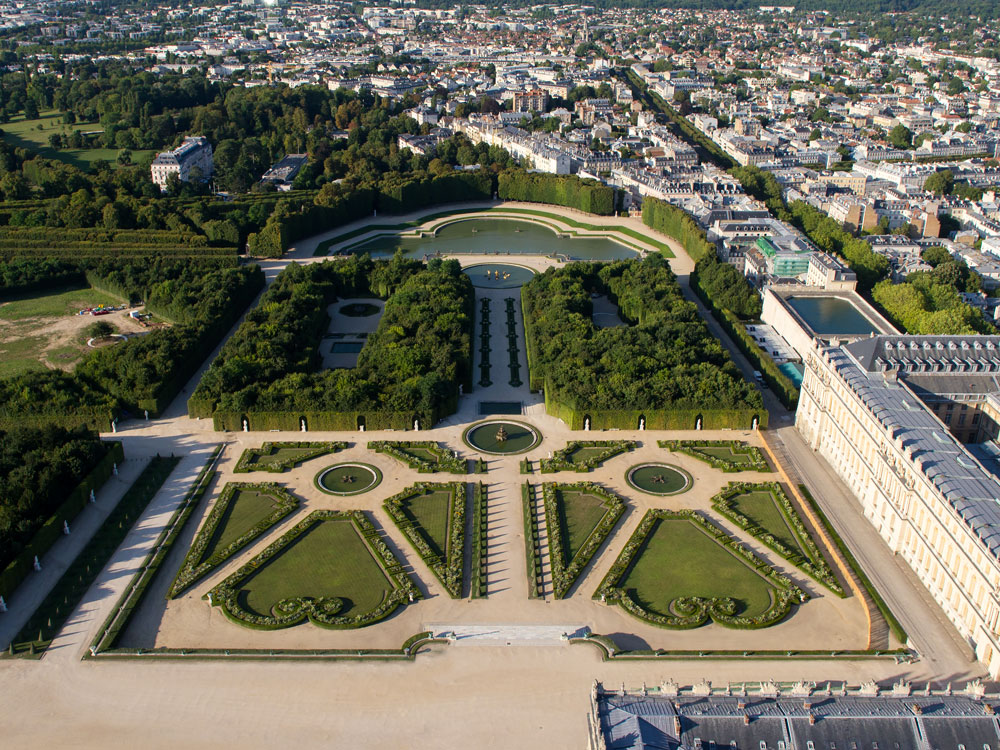 The North Parterre is accessed by a step flanked by two bronze statues on either side, cast in 1688 by the Keller brothers: The Grinder and Modest Venus. It is divided into two large sections each with a circular pool in the centre. To the north, it leads to the Pyramid Fountain made by the sculptor François Girardon based on a design by Charles Le Brun. This fountain, positioned in the centre of the pool, took three years to complete. It is composed of three tiers of lead basins held up by lead Tritons, dolphins and crayfish.
The South Parterre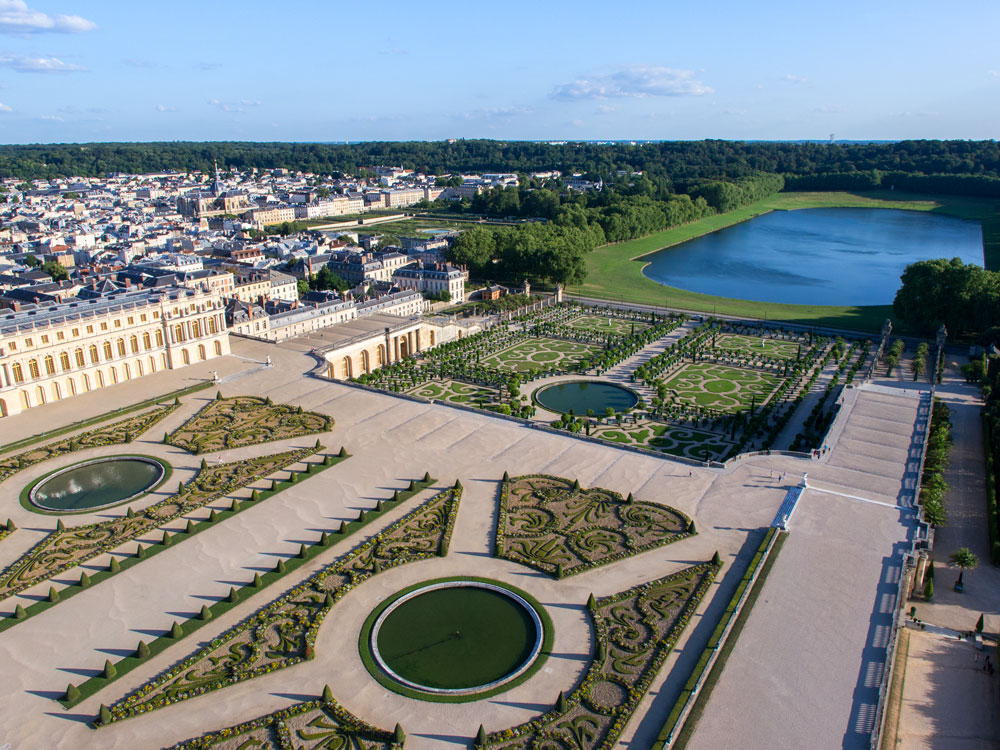 The South Parterre, also called the Jardin des Fleurs (Flower Garden), tempts the eye south to a balustrade from which the Orangery Parterre can be admired from above. The central section of the parterre can be reached by a couple of steps framed on either side by two statues of sphinxes ridden by Loves in bronze (placed here in 1685, having previously been situated, from 1670, on either side of the top of the Grand Staircase at Latona's Parterre).
Latona's Parterre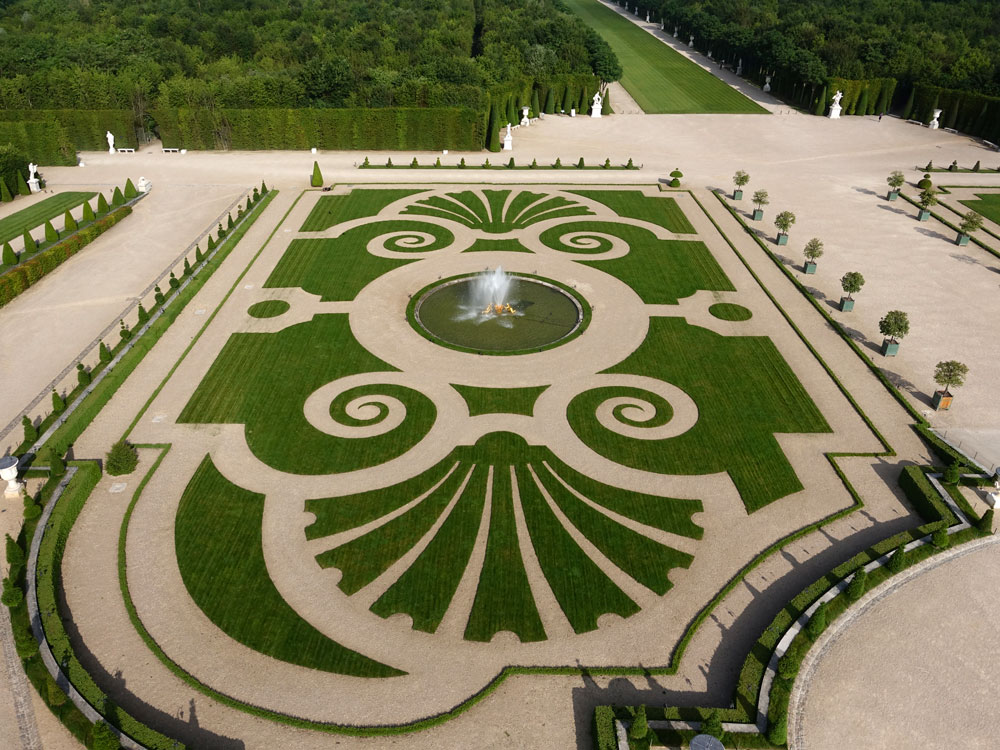 Covering almost 3.5 hectares in the heart of the Gardens of Versailles, Latona's Parterre designed by André Le Nôtre was laid out in the middle of the 1660s during the first phase of the embellishment work ordered by Louis XIV. After the Revolution it was turned into a simple lawn. Flower beds were added at the end of the 19th century and remained there until the parterre was restored to its original appearance in 2015.