Closure of palaces
In accordance with government guidelines, the palace of Versailles and its Gardens, the Grand Trianon, the Petit Trianon and their Gardens, the Gallery of Coaches, the Sculptures and Mouldings Gallery and the Royal Tennis Court are closed to the public.
Opening of the park
However the Park is open for walks or rides, from Monday 2 November, every day from 8 a.m. to 6 p.m. 
On the other hand, the Versailles park is open to walking every day from 8 a.m. to 6 p.m., in accordance with the travel rules set by the government. Cyclists and pedestrians can access the park by the Queen's gate (pedestrian and vehicle access), by the Saint Anthony gate (pedestrian access every day and for vehicles only on weekends and public holidays) or by the Sailors gate (pedestrian access only). 
Last admission to the Park is at 5.30 p.m. . 
The lake of the Swiss guard and the Marly Estate are also open for walks or rides, from Monday 2 November, every day from 8 a.m. to 5.30 p.m.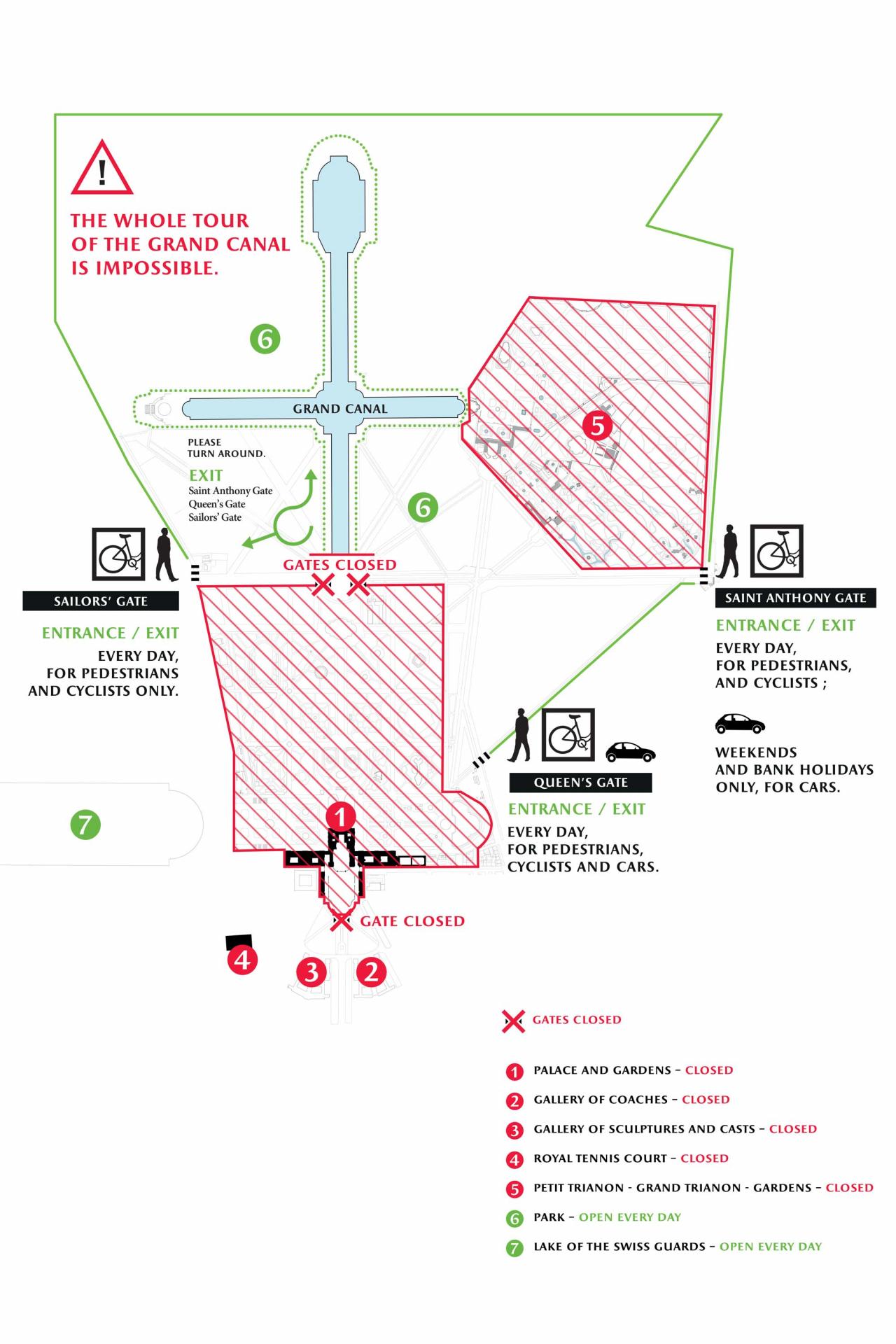 coffee, pancakes, take-out
At the Petit Trianon there is an Angelina food stand for a sweet or savoury gourmet break during your walk through the Park. From Tuesday 3 November, the stand is open from Tuesday to Sunday, from 12 p.m. to 5 p.m. . 
Maison Angelina offers you quiches, soups, hot and cold drinks at its Petit Trianon boutique, for take-out only.
Possibility to order with collection on site at 01 39 20 91 67
The organic sorbet and organic pancake kiosk at the Ferme de la Métairie, at the Trianon crossroads, is open Wenesdays, Saturdays and Sundays throughout the month of January (subject to conditions), from 1.30 p.m. to 5.30 p.m. 
From Wednesday 2 December, the Flottille offers walkers a take-out counter including a hot section, from 11 a.m. to 5.30 p.m, on Saturdays and Sundays.
Opening of the Marly Estate
The Marly Estate is also open for walks and rides, from Monday 3 November, everyday from 8 a.m. to 5.30 p.m. (last admission at 5 p.m.) 
Only pedestrians and cyclists can access the Marly Estate via the Bourg gate or the Royal gate, other entrances being closed.