Rose Tascher de La Pagerie
Born Marie-Joseph-Rose Tascher de La Pagerie to a family settled in Martinique, she came to France at the age of 16 to marry a young officer, Alexandre de Beauharnais, whose family was connected with her own. They had two children, a son, Eugène, in 1781, and a daughter, Hortense, in 1783. The couple was unhappy and separated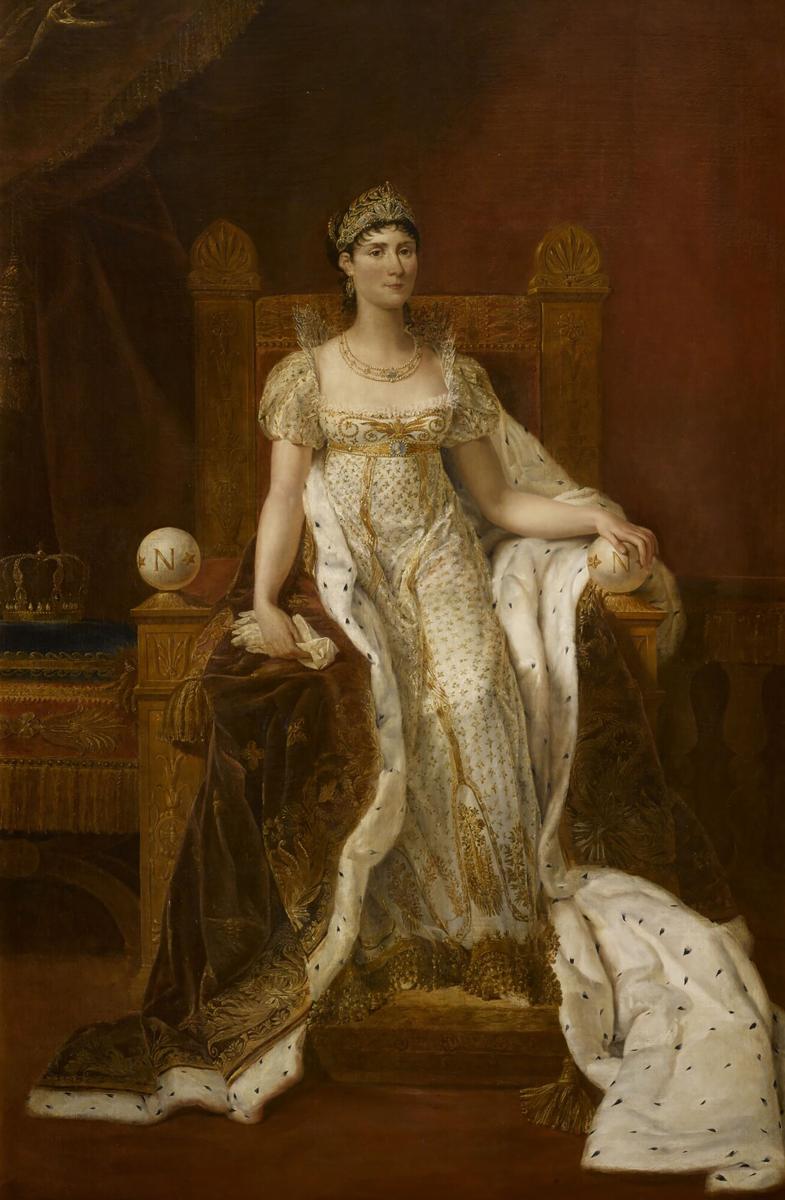 After returning to Martinique, repercussions of the Revolution and a slave revolt caused her to come back to France in October 1790, where she returned to her husband, who had become a member and later the president of the Jacobin Club and the Deputy of the Constituent Assembly. He returned to military service and became a general in 1792, leading the Army of the Rhine, before resigning and returning to live on his property. He was arrested there in March 1794. He was then transferred to Carmes Prison, where he was joined by his wife in April, and then to La Conciergerie. He was guillotined in July 1794. Rose awaited her turn, but was set free with the fall of Robespierre.
An Empress
As a widow, without any income and two children, she got by the best she could until her friend Teresia Cabarrus, Barras, who became her protector, introduced her to a promising general, Napoleon Bonaparte. Her grace and charm won his heart and he married her in a civil ceremony on 9 March 1796. He began calling her "Joséphine". She followed him as he rose from his rank of general to First Consul through the Coup d'État of Brumaire (9-10 November 1799), then Emperor of the French in May 1804.
Despite becoming an accomplished wife and Empress, she could not produce an heir, which caused her husband to divorce her in the interest of the country in 1809. She retained her title of Empress and queen and left to live in Château de Malmaison, near Paris, and at her Château de Navarre in Normandy, where she passed away on the day of Pentecost in 1814, a few weeks after Napoleon's abdication.
There are few signs of Empress Joséphine's memory at Versailles. Despite plans to allow her to stay with the Emperor at Trianon, the renovation work for the two small palaces was only completed the day before Napoleon's remarriage with the Archduchess of Austria Marie-Louise. When they divorced, the Emperor left Château de Malmaison entirely to Joséphine and began looking for an alternative residence. He found that the Grand Trianon offered a good solution, being similar size and not far from Château de Malmaison.